Logo's & letters
I cannot remember how many comics i have lettered and how many logos i have made. I have never tried to keep an archive. If i had known there would ever be an Internet and this website to show it, i certainly would have made more photocopies and thrown less copies away. On the other and, it is not all that interesting.
I will try to show examples of my work here, that are either recently made or that are still in my possesion.
Ofcourse: this is my
JOB,

so if you want me to make a logo or do some andlettering, please ask! The prices are indications, because every job is different.
Recent jobs
Comic headings
When i do the lettering of a comic, i often also do some of the logos or headings or titles; i don't know how this is called in proper English. Here is one that I did last week. It is the title of a story, done in the style of the original title:


—————————————————————
Opening van zaken
For Comic House I did this lettering for an advertisement.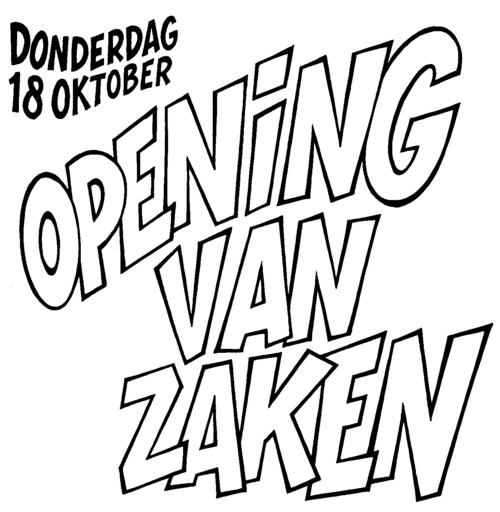 It had to be done literally overnight, and I had to do three versions, but it was the best paid job I got in years: 500 euro!!
—————————————————————
Uilskuikens
Ruud Hulleman, a.k.a. Rudy Talbo, has made an animation video of some of his Uilskuiken cartoons. He asked me to do some lettering for the project ,which I did with pleasure of course.


—————————————————————


Jan van Erp has a site under construction called Panta. He sent me a mail recently about Ambigrams. Douglas Hofstadter invented this term for words written in such a way that, when read upside down, they stay the same, or change in another word. The most famous creators of ambigrams are Scott Kim and John Langdon.
I had never tried making an ambigram, but I love puzzles like this, and since I had nothing better to do I tried to make some ambigrams of the names of some of the people i know.


I also searched the Net for examples and information on the subject. I decided that this is dangerous stuff for a mind like mine and after two evenings of puzzling I stopped.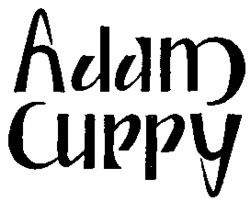 Some of the best results are shown here. If you cannot read them, it is not your fault!
—————————————————————
Site logos
Last night I made a few logos for sites that I subscribe to. Not that they asked for it, but it is a way to show my appreciation. I will mail them the logo, and if something happens, I will let you know.
The colours are shitty; I have no sense of colour. i'll send these sites a black&white version.