Part 1- 10
Tuesday, 6 February 2007
Raam Jan & Joop
Three or four times a year I paint a logo on a window of a shop. Usually the logo is my own design, but i also do existing designs.
Last year I painted the logo for a gallery and got asked by the next door neighbours if I would like to their window too. They were starting a 50's style candy & toy shop and already had a logo made by someone on a computer. I adjusted it a little bit to make paint is look a bit more fifties.
For this job (readjusting the logo and painting it on the window) I asked 175 euro, which is about my average price for this kind of work.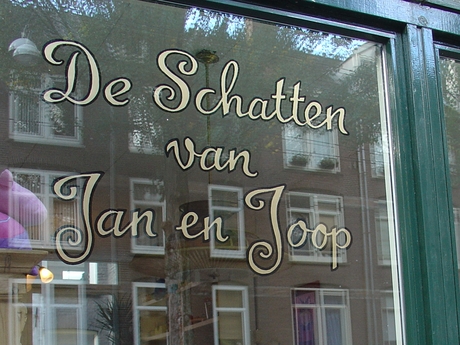 Klepkaarten
In the mid 80's I made postcards for any companies. Strange business! Even for cards published by the "best" companies in this branch I never got more money than a few euros. Usually they pay ±1 or 2 eurocent per sold card. With a market that is flooded with cards you don't need a calculator to estimate your chance to get rich by making postcards. But I liked the job and I met some nice people. Like Hans Déhè, who had his own little postcard publishing company ( Fitting Image ) and asked me to work out some of his ideas. One such idea were cards that were also eye-shades. I had tried to sell him some animal cartoon cards earlier, without success, and he proposed to make drawings in that same style for the Klepkaarten.
The rest is history: I have never seen any of the cards in a store, I didn0t get any money for it, my drawings were lost. But Hans did give me a box of cards and a still have a few. "Sell them on your site!" said my son. "What is a fair price, you think?" ??"8 euro, including postage."

De Bonte Was
Arnold Heikamp has been writing a column for Prime Time Magazine for many years. He has made abook with aal the columns via Lulu.com and i had the honor of making the cover.

Prime Time
For I don't know many years two guys named Jan make a weekly free (!) magazine called Prime Time. The readers get to know what movies not to miss, what CD's, books and DVD's are worth buying and lots of other information. The main focus has shifted a bit over the years, but the keywords are still trash, underground and outsiders. Since a few month there is also a blog:http://primetimemagazine.wordpress.com/
The zine is filled with low quality reproductions of the items that are discussed. And when I have nothing better to do I re-draw the logos that I like. Here is part 1: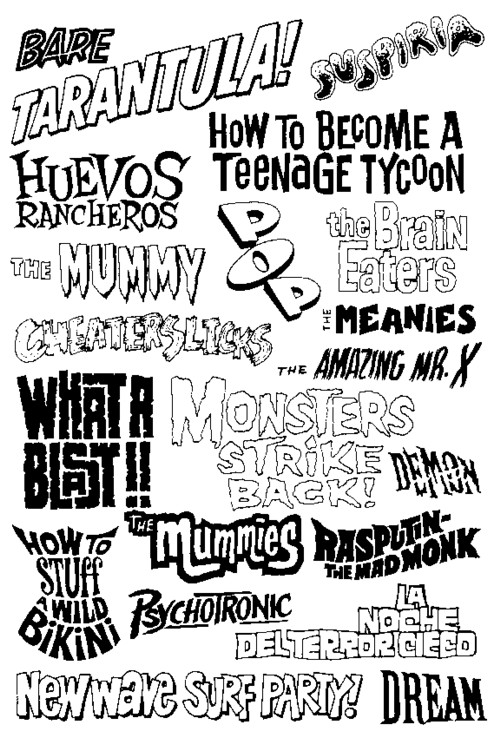 Free Trinity logo
Adam Curry is a source of inspiration for me. I have been listening to his podcast (the Daily Source Code) for over 250 episodes now, and i sort of study him. He has many features that i wish i had more of.
One of the great things about Adam Curry and the DSC is that he gets things going. His listeners are part of the show, they co-create the show. A recent project that came out of the DSC is Free Trinity. I am not going to explain it, but i do show you the logo that i made for the project. I don't think it will be used, but it is most of all a way to say thank you to somebody who has been inspiring me without knowing it.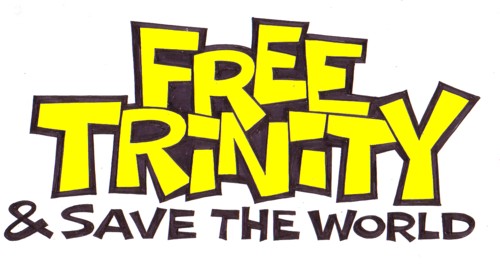 Lettering Ythaq
For 25 years I have been lettering comics almost every day. I loved the work, but I knew that I would one day become obsolete as a hand letterer. Not that you get better lettering with computers, but they are cheaper. I still get jobs as a letterer, but not enough to make a living out of it. I guess I do three books per month now, where I used to do twelve or more.

There has never been much interest in the art of hand lettering within the Dutch comic scene. I guess there have been written two or three articles on the subject for fanzines and I have been interviewed once. I think the craft is worth a book, and now I have the time to write it, but I doubt if there is a publisher interested in a book about comic lettering.
This week I did the lettering for the Dutch edition of Ythaq, a fantasy story by Arleston & Floch. 60 pages with a lot of text for a story in which not much happens. I get 15 euro per page, inclusive making scans of all the pages. Here is an example of the lettering.

Flesch
Harrie Berkhout runs a small second hand record&book shop in the Noorderkerkstraat 16, Amsterdam. I do all the design and lettering for the shop: the little signs, the painting on the window, the ads and whatever is necessary. I also repair the toilet and make displays for the records. But most of all I like to hear Harrie talk about his record collecting adventures and other businesses that he is involved in.

Tonight I did a little sign that he wants to put up in the window, to let the regular customers know that the shop is only open three days a week for the first months of the year.
This is what i call a quicky: it has to be fast, cheap and good enough. I charge Harrie at least 100 euro, but for anybody else i would do it for 50.

Logo Chipz
For a long time I struggled with an integrity dilemma. Often I get asked to do work for people or companies who's intentions and ideas are different from mine. Not that I have ever been asked by criminal organisations, but you will understand what I mean. I have turned down many jobs because I did not want to be part of the world that was represented here. This may seem noble, but it was not. Deep down I did not feel at all that turning down jobs was the best way to solve this problem. But what to do then? Doing the job and giving the money to charity or friends?
I will spare you all my thoughts on this dilemma. After turning down jobs for a few years, the dilemma solved itself, because I was hardly asked anymore. But I kept thinking about the best strategy to handle this situation. I discovered that refusing to do logos for certain companies or people is in essence based on fear. Fear to compromise, fear to become what I feared, etcetera. It is all quite ridiculous in hindsight… I wish my work had such an impact on the world that I had a real reason to worry about all these things!
In the past few years I try to put my intentions and ideas in everything I do, no matter what the job is. And I have learned to trust Life a little bit more.

(75 euro)
This a typical example of the kind of work I do: somebody needed a simple outline version of the original logo of Chipz (a popular top 40 act) and because it was too complicated to do this on a computer, I was asked to do it by hand.
Famous Once
Esper Postma belde me een paar weken geleden op met de vraag of ik iets voor hem wilde bedenken dat hij kon publiceren in de rubiek Vrijplaats, in de Volkskrant. Dat werd een serie cartoons over beroemde mensen die tevergeefs hun succes proberen te herhalen. Omdat het mij doorgaans slecht lukt om iets te verkopen en omdat Esper (18) geen enkele reputatie heeft, had ik er weinig fiducie in dat het hem zou lukken de serie cartoons aaan De Volkskrant te slijten. Maar dat lukte hem wel: op basis van één uitgewerkte cartoon en een beschrijving van het idee mochten we 10 cartoons maken. Tegen een honorarium van 100 euro per aflevering. Dat is één van de best betaalde klussen in jaren!
Ik heb met veel kunst en vliegwerk de cartoons gescand en gemonteerd. Dat ziet er niet geweldig uit, maar van links naar rechts ziet u Mozes, Kennedy, de Beatles, Armstrong, Hans Brinker, Bassie, Einstein, Shakespeare, Jezus en Mohammed.


Site logos
Last night I made a few logos for the sites that I subscribe to. Not that they asked for it, but it is a way to show my appreciation. I will mail them the logo, and something happens, I will let you know.
The colours are just random; I have no sense of colour.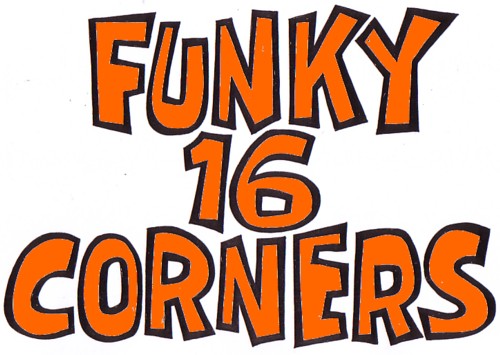 Jan van Erp has a site under construction called Panta. He sent me a mail recently about Ambigrams. Douglas Hofstadter invented this term for words written in such a way that, when read upside down, they stay the same, or change in another word. The most famous creators of ambigrams are Scott Kim and John Langdon.
I had never tried making an ambigram, but I love puzzles like this, and since I had nothing better to do I tried to make some ambigrams of the names of some of the people i know.


I also searched the Net for examples and information on the subject. I decided that this is dangerous stuff for a mind like mine and after two evenings of puzzling I stopped.

Some of the best results are shown here. If you cannot read them, it is not your fault!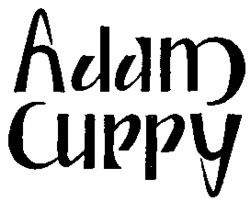 Uilskuikens
Ruud Hulleman, a.k.a. Rudy Talbo, has made an animation video of some of his Uilskuiken cartoons. He asked me to do some lettering for the project ,which I did with pleasure of course.


Comments: