Radiola Salon
Tuesday, 12 December 2006
In the period between 1980-82 Willem de Ridder did a weekly radio show for VPRO-radio. I was a regular listener, but I cannot remember as much of the show as I wish right now. The show was called De Radiola Improvisatie Salon and Willem invited listeners to send in a cassette tape with some improvisations. Not necessarily music, but most of what I remember was music. Or something like that. I remember most of all being amazed of the weird sounds that Willem played in his show. Each listener could send in taped sounds and they got guaranteed air time.
Introduction of a show by Willem de Ridder
Willem considered everybody who recorded sounds as a composer and the listeners heard De Ridder open the mail right on the air, prohibiting all censorship and taste. He never listened to any of the tapes in advance, nor did he do any other preparation for the show. Home-tapers were asked to send in tapes that were ready for broadcasting, meaning that Willem never played a tape back or forth and after five minutes or so he took the tape out of the tape deck and put in another one.
The Radiola Salon became so popular that he organized concerts all over the country where everybody could bring a cassette, that would be guaranteed part of the concert if it had the accompaniment of a visual act with it. These concerts were aired too.
As an ordinary Top Pop listener this was complete new territory for me. I knew nothing of improvisational music. After the program was taken off the air, I forgot about it for many years.
Because I know Peter Pontiac, who did a lot of artwork for projects of Willem de Ridder, I once asked him what ever happened to the tapes that Willem played on The Radiola Improvisatie Salon. To my surprise Willem had given two boxes of cassettes to Peter right after the show ended! He had never listened to them and a few years ago he had given the boxes away to Fake Booy and Ruud Hulleman. To cut a long story short: both Fake and Rudy had their box (unopened!) stored away and it took me little efforts to become the new owner of what I since call The Radiola Tapes.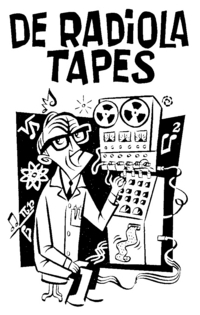 >© Pieter Dorrenboom
I never counted the tapes, but it must be over 250. I have no idea how many tapes are missing, but what is left exited me to no ends. First of all because it was all (or almost all) original material. And much was never played on the radio; some people only send in pieces of five minutes length, but many send in complete C-60's or C-90's. Not all tapes contained improvisations: the contend ranged from mono outbursts of people who had never recorded anything before or after this tape, to studio-mixes from well trained musicians. And everything in between: synthesizer tunes, violin concertos, stories, ordinary pop songs, hammering on trashcans, cut ups, sample-mixes and much more.
For mysterious reasons the tapes had no labels and much of the information was made undecipherable or peeled off. If there was still any info on the tapes it meant little or nothing to me. Although the names of a few regular Salon contributors did ring a distant bell. A real problem was that quite a few of the tapes were broken. People made 5 minute tapes of C-60's or C90's and after all these years the tape had fallen apart.
I decided to repair all the tapes, to record all the interesting material on DAT in the best possible quality, and to make a few compilation cassettes for myself, Willem, Peter, Fake and Ruud. From the 52 hours that ended up on DAT tapes, I carefully put together 11 compilations on c-90 cassettes, which in my ears deserve to be released as a CD-box. Not only because *The Salon** was an unique project, but most of all because it is great stuff. At least, in my opinion. I must admit that I am no longer allowed to play any of these tapes when my family is at home. And I did not get any positive reaction on the tapes that I gave to friends, journalists, radio stations, record labels and other people that I expected to be able appreciate these audio documents.
I have not been able to find much information about the Radiola Improvatie Salon on the Net, but I did acquire some magazines and newsletters that Willem made for The Salon. Willem also gave me the book in which he wrote down the addresses of some of the contributors. So far I have only traced a few of them; the rest has moved, died or otherwise disappeared. So, if you happen to know anything about the Radiola Improvisatie Salon, or if you were one of the contributors, or if you have a CD-label that is interested in releasing the 11CD-box, send me a mail . Or a spoken word cassette.
(121206.This text will be regularly updated.)
Tracks of the moment:
01.*Napalm Baby*- Getting off
02.*Peter Lohn*- Ouverture
03.*Genetic Factor*- Wenn Ich gestorben bin
I will change the music every once in a while, depending on the weather and other variables.
Because the names of the artists and the titles of the tracks were in most cases missing, i made these up. If you happen to recognise anybody, please let me know!
191206)