Koerswijziging
Thursday, 29 November 2012
Gisteren bedacht ik dat ik geen zin heb om mijn schrijfproject nog langer op dit blog te zetten. Het is iets dat ik eigenlijk alleen aan mezelf schrijf. Niet dat u het niet zou mogen lezen, maar het is niet echt voor u bedoeld, merk ik. Dat was niet het idee dat ik had toen ik er aan begon. Maar ik doe ook maar wat en ik wil graag kijken waar dit project heen gaat als ik het een jaar volhouden dat ga ik dus ok gewoon doen. Maar niet meer op dit blog. Ik zal af en toe wel iets schrijven over hoe het gaat, en ik zal zorgen dat wie het wil lezen het ergens kan vinden, maar vanaf nu is mijn papieren speeltuin alleen open op afspraak.
Hoe het nu verder gaat met dit blog weet ik niet. Ik ben van plan om de draad gewoon weer op te pakken, maar ik weet niet of dat lukt. Ik wil me vooral een jaar lang concentreren op dat schrijfproject. Op zich is er tijd genoeg om allebei te doen, maar ik weet niet of ik dat kan. We zullen zien!
Hier zijn wat illustraties die Janusz Grabianski in 1969 heeft gemaakt voor een uitgave van Shakespeare verhalen. Ik vind het minder zo mooi dan de tekeningen die hij voor het sprookjesboek maakte dat ik u eerder liet zien, maar het is de euro die ik voor dit boek betaalde dubbel en dwars waard.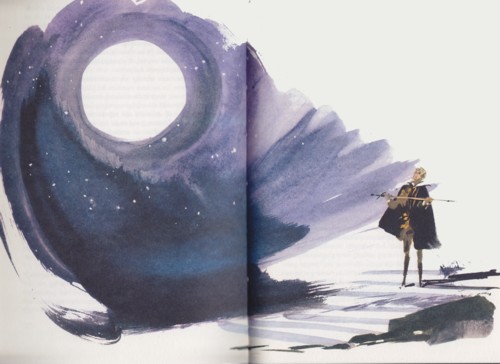 Comments: