Alfabetten
Wednesday, 11 July 2012
Af en toe plaats ik iets op FaceBook. Omdat ik zelden meer op FaceBook kijk, is dat niet vaker dan eens in de twee weken. Ik heb onder andere een paar recnte alfabetten op FaceBook gezet. Een dan de mensen die reageerden, is Hugo Hoes, die me er dan telkens fijntjes op attendeert dat er letters ontbreken. Meestal is dat de "I". Door een letter weg te laten, ontstaat er een mooier letterbeeld. Maar goed, speciaal voor Hugo heb ik een alfabet gemaakt dat uitsluitend uiit de letter "I" bestaat:
Ik werk in pricipe alle ideeen die ik krijg voor een alfabet uit. Ook als het hele domme alfabetten oplevert. Soms komt er later nog een idee bij, waardoor zo'n dom alfabet dan toch weer aardig wordt. Zoals dit science fiction alfabet: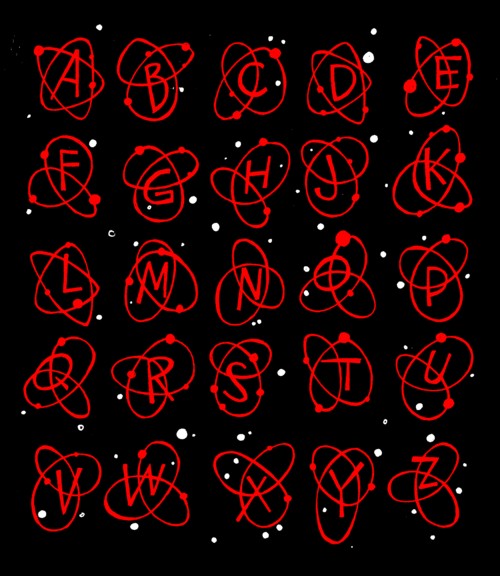 Ik zou graag een boekje maken met een stuk of vijftig van de interessantste alfabetten. Maar om gewoon al die alfabettetn acheter elkaar te zetten,lijkt me niet echt een goed idee. Wat ik het liefst zou willen, is dat ze allemaal ingekleurd worden, zoals de Vissen die Fake Booy inkleurde. En dan zou ik er naast een (verzonnen) toepassing van willen zien, bijvoorbeeld een logo of een poster met de letters in een hoofdrol. Dat is achterlijk veel werk, en misschien is het helemaal niet nodig; misschien is er een andere vorm om de alfabetten op een aantrekkelijke manier te publiceren. Mocht u een goed idee hebben, dan houd ik me aanbevolen.
Hier is een vlinder alfabet, gemaakt op verzoek van meneer en mevrouw Jan:
Inkleuren lukte me niet, maar dat kunnen ze natuurlijk gezellig samen thuis aan de keukentafel doen.
Comments: