Dode varkens
Tuesday, 13 June 2017
Aanstaande zondag is er een presentatie die u niet wilt missen. Ik weet dat u vrijdag naar de Expeditie Alfabet expo komt , maar dan heeft u de hele zaterdag om een beetje bijkomen, zodat u zondag om drie uur uitgerust naar Akhnaton kunt komen om daar de presentatie van het boek "Dode varkens" mee te kunnen maken.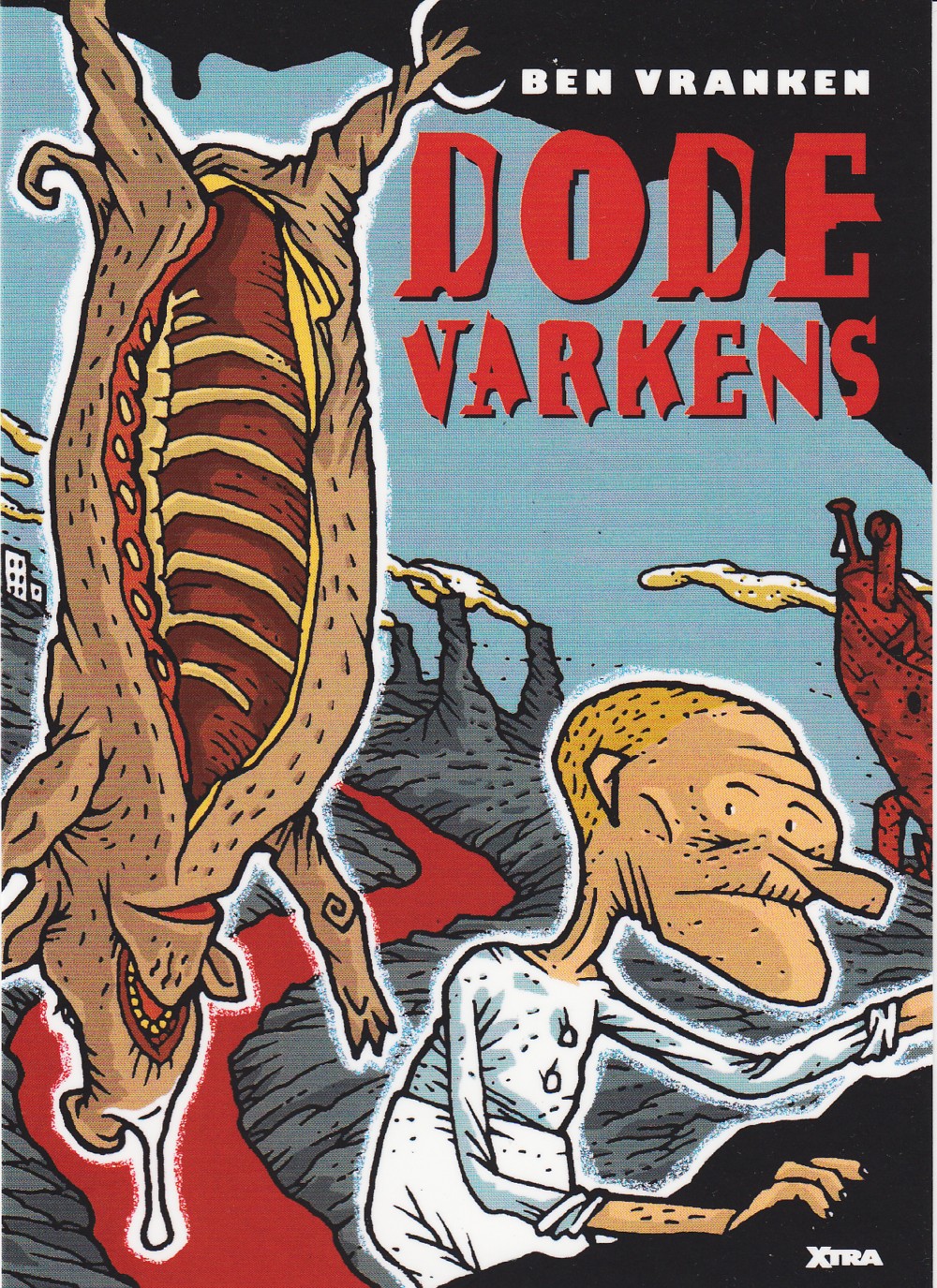 Het is een boek van Ben Vranken. Uitgeveruij Xtra heeft hem overgehaald om al zijn strips en tekeningen in te leveren en daar heeft hij met Ger van Wulften een boek uit samen gesteld. Wie Ben een beetje kent weet dat hij nou niet bepaald een zorgvuldig bewaker van zijn eigen oeuvre is. Toen ik hem zo'n 35 jaar geleden leerde kennen moest hem overtuigen om af en toe iets uit zijn prullenbak te vissen en dat naar mij te sturen. Ik heb daarvan een handvol zines gemaakt die nog steeds staan als een huis. Ben Vranken is een rastekenaar en ondanks dat hij daar heel lang zelf anders over leek te denken heb ik hem nog nooit op een lelijke tekening kunnen betrappen.
Voor dit boek, dat ik nog niet heb gezien maar waar ik me zeer op verheug, heeft hij zelfs oude strips afgemaakt of er teksten bij verzonnen. Die waren in de loop der jaren kwijtgeraakt, of ze waren er nooit geweest.
Het werk van Ben wordt gekenmerkt door een hoge dichtheid aan lijken en pijnlijke sterfgevallen. Ik zat ooit naast hem tijdens een 24 hours comic day en om het uur verzuchtte hij dat de hoofdpersoon van zijn strip weer was overleden. De donkere toon van zijn werk staat in schril contrast met hoe Ben in het dagelijkse leven overkomt. Ik ken weinig mensen die zo aardig en oprecht zijn als Ben. Vandaar dat ik zo blij ben met dit boek.
Pieter Dorrenboom en ik gaan in Akhnaton plaatjes draaien, dus als u slim bent neemt u uw dansschoenen mee. Zie u zondag!
Comments: