Copperplate
Sunday, 17 May 2015
Zaterdag was ik bij een workshop "copperplate". Dat is een vorm van calligrafie, maar dan met nog meer regels dan gewone calligrafie. Ik heb ooit toen ik achttien was een schriftelijke cursus calligrafie gedaan en toen ontdekt dat dit niks voor mij is. Te formeel, te weinig rock'n'roll. Maar goed, een mens wordt ouder en dit kwam op mijn pad en ik had verder toch niks te doen. De man die de workshop gaf is Ramiro Espinoza, de schrijver van het Krulletter-boek en de maker van een paar Amsterdamse letter-fonts. Het feest vond plaats in de werkplaats van de Dutch Signpainters Guild en er waren zo'n tien andere deelnemers. Ramiro maakte wat foto's. Zoals deze: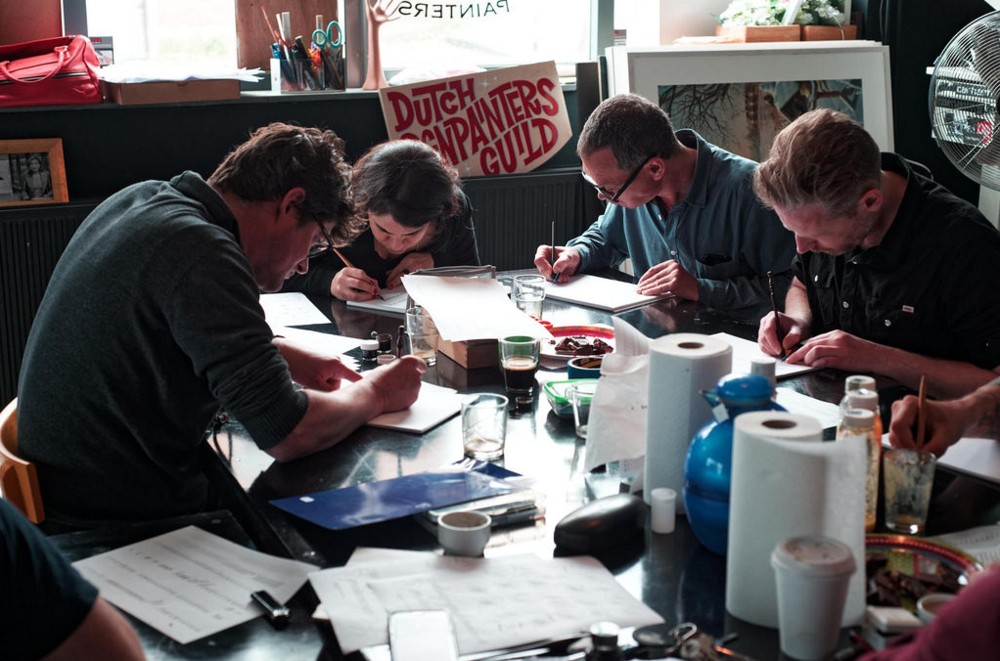 Het is geweldig om de beginselen te leren van een ambacht dat ogenschijnlijk dichtbij het ambacht ligt dat ik beoefen (stripletteren) maar dat er tegelijkertijd net zo van verschilt als zwemmen verschilt van wielrennen. Ik heb voordeel van de vaste hand die ik heb ontwikkelt als stripletteraar, maar ik mis een hoop kwaliteiten die nodig zijn om een fraaie copperplate letering te kunnen produceren. Maar ik heb geen ambitie om dit tot mijn vak te maken. Ik vind het oefenen leuk en ik vind het geweldig om met lettergenoten gesprekken te voeren over hoe je een "e" mooi aan een "k" schrijft of hoe je een bocht aan het uiteinde van een "m" moet tekenen.
Het gezelschap wil proberen regelmatig bijeenkomsten te houden om tips en informatie over het lettervak uit te wisselen. Ik had zaterdag een geweldige dag en het idee dat dit vaker gaat gebeuren maakt me nu al blij.
Hier is een video waarin iemand laat zien hoe je copperplate letters schrijft of tekent:
Do try this at home!
Comments: