Mini-strips
Thursday, 18 August 2011
In de jaren zeventig las ik stapels zogenaamde mini-strips. Dat was pulp van de bovenste plank. Al mijn vrienden hadden ook een stapel van die mini-strips en ze werden veel uitgewisseld. Er waren meerdere uitgevers van deze pocket-stripboekjes en ze hadden allemaal meerdere series. Oorlog, romance, horror, sex, detectives, het hele standaard pulp repertoire. De omslagen weren vaak een stuk beter getekend dan het binnenwerk.
In de jaren tachtig heb ik een heleboel van die boekjes geletterd. Maar stom genoeg heb ik daar niets van bewaard. Vaak moesten de strips eerst bewerkt worden: de originele pagina's waren A4 en ik moest dan één pagina verknippen tot drie of vier kleine pagina's. Door handig te knippen en plakken kon dat met relatief weinig tekenwerk. Dat moest ook, want dit werk betaalde heel slecht. Ik meen 5 gulden per pagina. Ik was niet de enige letteraar die dit werk deed. Mijn broer heeft het ook een tijdje gedaan. En volgens mij deden zo'n beetje alle letteraars in die jaren dit erbij om rond te komen. Met als gevolg dat deze pulp soms beter is geletterd dan strips als Lucky Luke of Guust Flater: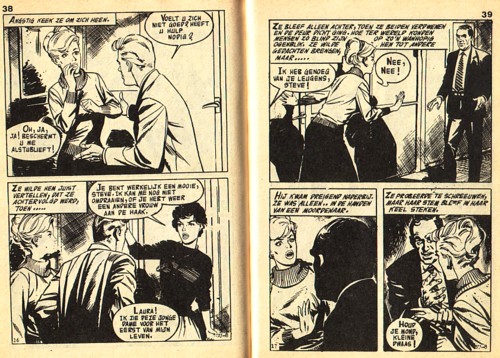 Niet alle strips in de mini-strip reeksen zijn slecht, al waren de meeste dat wel. Ik vraag me af of iemand dit al heeft uitgezocht en of er plannen bestaan om dit materiaal ooit nog een netjes opnieuw uit te geven. Met een betere vertaling, een goede lettering en goeie reproductie zouden een aantal van deze strips het heruitgeven zeker waard zijn.
De tekenaars van de mini-strips werden volgens mij nooit genoemd. Ik vraag me zelfs af of ze allemaal wel wisten dat hun werk op deze manier werd uitgegeven. De mini-strips werden volgens mij vooral verspreid via dezelfde kanalen waarlangs porno werd verspreid.


Ondanks dat ik sommige mini-strips als kind vele malen gelezen moet hebben, herinner ik me niet één verhaal. Wat ik me wel herinner is dat de pagina's soms verkeerd waren afgesneden: dan kon je de bovenste regels van de balloons niet lezen. Daar zat ik verder niet mee, het hoorde erbij.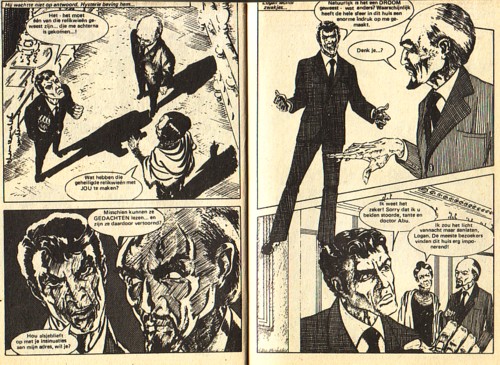 Comments: