The Bimbo Box
Friday, 19 January 2007
Like everybody my age (and younger) I remember having seen hundreds of the so called Bimbo Boxes. You remember them too: a sort of jukebox, with a toy monkey orchestra in it. They were everywhere: at playgrounds, café's, fairs and many other places.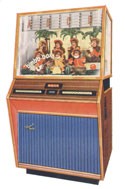 This is not the first time that my memory seems to play a trick on me, so I hoped that you could help me out. The last BimboBox that I have really seen, is one at a café in the Vondelpark, Amsterdam. That was two years ago, and I haven't checked if it is still there. But for the rest: if I was asked to name exact dates and locations of all the other Bimbo Boxes that I think I have seen, I could not name any!
The last article that I have read about the Bimbo Box, was in the magazine O: I have cut it out, but forgot to date it. I guess it is from around 1992. It describes the Bimbo Box in a more realistic way then my memory does: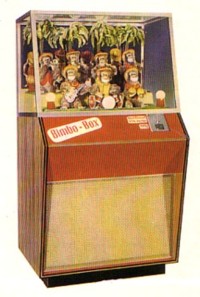 "Because of a technical failure the percussionist stands as frozen between the rest of the Mexican monkey orchestra, but the guitarist is still beating his strings in a murderous tempo. After two ultra short tunes, the music falls silent and the lights go out, waiting for somebody to drop in another guilder, where once a dubbeltje was enough."
The small article tells that in 1991 there were still 22 working Bimbo Boxes in Holland. They were originally built in Keulen, Germany. The music was reproduced by a tape system with grooves and a needle(?), called Tettifoon. Later the machines got an eight track system. The firma that exploited the 22 Dutch Bimbo Boxes in 1992, Gamo, got weekly calls from people, willing to pay 7000 guilders or more for such a machine.

I have done a Google search and to my surprise I could not find any real information: even Gamo doesn't mention the Bimbo Box on their site. Probably they have indeed sold all their 22 machines. There were a few museums that mentioned a Bimbo Box, on YouTube are a few videos of a Bimbo Box in San Francisco, and there were two or three Bimbo boxes for sale. But that is about it. Where are all the hundreds of Bimbo Boxes from my youth? And do they really all play the same Tijuana tunes?
Update 100207.
Check this!
Comments: