Surfer Joe & The Tonomats
Saturday, 22 February 2014
Gisteren speelden in Maloe Melo Surfer Joe en The Tonomats. Dat wist ik dankzij de FaceBook-berichten van de Amsterdam Beat Club, want eigenlijk ben ik geen grote fan van surfmuziek en volg het niet. Bovendien was ik ziek geweest en twijfelde ik of ik een avond Maloe Melo wel zou overleven. Maar ik had zin in muziek en mijn broer wilde wel mee dus wij waren keurig om tien uur aanwezig in een uitgestorven Maloe Melo. Onbegrijpelijk dat ik nog steeds de aanvangstijd op posters serieus neem. Uiteindelijk begon de band om een uur of half twaalf. Voor een publiek van dertig man, schat ik, waarvan toch zeker tien zich niet zullen kunnen herinneren waarvan ze getuige zijn geweest.
Na een paar nummers was al duidelijk dat dit geen schoolbandje was, maar de stijgende lijn werd nergens afgebroken en Surfer Joe & The Tonomats maakten het een avond om heel lang te onthouden. Af en toe maak je dat mee: een band die alles goed doet en die je doet beseffen hoe fantastisch live-muziek is.
Surfer Joe vertelde tussen de nummers door af en toe een kort verhaal over surfmuziek, over zijn versterkers, over Dick Dale, over North Sea Surf. Hij was echt de ambassadeur van de surf, en een hele leuke. En allemachtig, wat kan die gast gitaar spelen!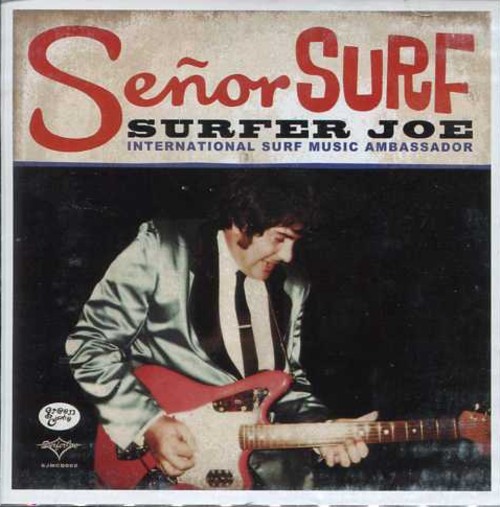 Ik heb de elpee gekocht en mijn broer gaf me later ook nog een demo van The Tonomats, en gelukkig heb ik ook een paar nummers opgenomen met mijn iPhone. Om u even in te peperen dat u wat heeft gemist, laat ik van die opnames de hele toegift horen:
Op het promo-ceedeetje van The Tonomats staan vijf nummers en die zijn erg goed. Maar het ceedeetje ziet er zo uit:
Ik heb vanochtend meteen een schets voor een logo gemaakt.

Comments: