Dick Dale
Friday, 8 June 2007
Right now I am listening to this. The man being interviewed in this radio show is the same man who gave me the Dinamo-record, Arend Jan Heerma van Voss.
This radio program reminded me of a tape that I once got from Mike James. I had told him about a fantastic concert of Dick Dale, that I had witnessed in the Amsterdam Paradiso. He had just bought an LP of Dick Dale and his Dell-Tones, Mr. Eliminator.

The LP was still sealed, 25 years after its release, and Mike James recorded the opening for me life on cassette tape. A week later I found the LP in my mail box, with a little yellow paper stuck on it.
The concert of Dick Dale was impressive. The man stood there on stage as a rock, using his guitar as an audio gun. In between the musical explosions, he talked a lot, about the earth, nature, his Indian heritage and other things that you rarely hear at rock'n'roll concerts.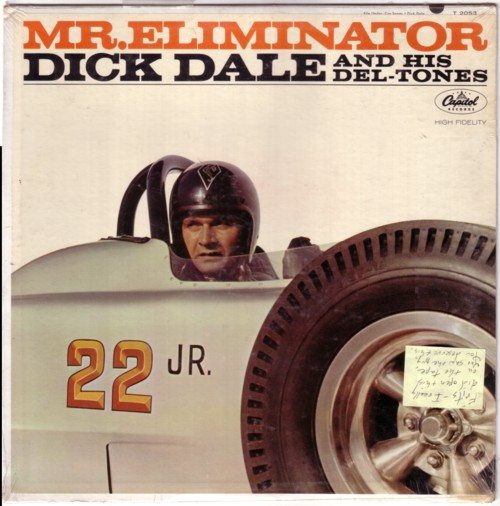 The LP is equally great. On the cover Mr. Dale is pictured in a custom built race car. In the sleeve is a full color photo of that same car ("suitable for framing""), built by Tony Nancy.

And there are thumbnail pictures of other Hot Rod records that Capitol had released: Hot Rod Dance Party by Jerry Cole &his Spacemen, Thunderroad by The Super Stocks, and of course the Big sounds of the sports cars series.
Here is Dick Dale and his Del-Tones with The Victor.
Comments: