Happy Birthday part 2
Tuesday, 12 June 2007
.

The idea that copyrights can be bought or sold seems so absurd to me that I don't even want to write about it. As an artist I fully subscribe that all money made on art should go to the artists, but that is something completely different than what all the fuzz about copyright usually is about.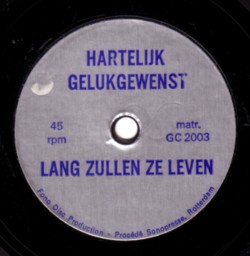 The Happy Birthday song was written (or at least published) in 1893 by two sisters from Kenucky, Mildred J. Hill and Patty Smith Hill. It has been a copyright problem untill this very day. If you want to read all about it, try this wonderful site.
On none of the Happy Birthday records in my collection are the Hill sisters mentioned as the composers of the song. Of course, not all Happy Birtday songs are composed by the Hill sisters. John Koemans sent me this song, made in the Philippines.

I have more non-Hill Happy Birthday songs than you would probably like to hear, but I promise you: before the year is over I will give you the opportunity to listen to all of them!
Comments: