George Love
Thursday, 28 June 2007
Life is a mystery: some lousy records have great sleeves, and some wonderful records are hidden in artwork that hurts my eyes.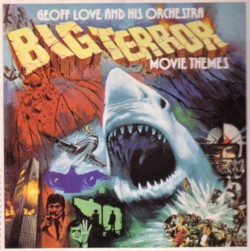 I have six LP's of George Love and his orchestra: TV Western Themes, Big Suspense Movie Themes, Big Western Movie Themes, Big Terror Movie Themes, Big War Movie Themes and Themes for Super Heroes. The first five LP's have beautiful artwork and are in mint condition. And they will stay in mint condition, because I never play them. It is not bad music, but I don't think it is very spectacular either. And with many meters of other records that I can put on my turntable, these LP's never make it.

But the sixth LP, Themes for Super Heroes, is different: the artwork sucks, the vinyl is three dimensional, and there are some great songs on it!
I am responsible for not a small amount of sucking artwork, so I am not the person to judge the work of others, but holy macaroni, there is nothing right with this cover. I feel tempted to list up all that's is wrong, but I will try to resist this urge. (The Superman logo is a joke, for example.)
Some songs on this LP are a bit of a surprise, considering the title. Emanuelle and The Pink Panther are not on my list of Super Heroes. And also the theme of Jaws 2 seems to me a bit out of place here.

But you won't hear me complain, because the themes of The Incredible Hulk, Spiderman, Wonder Woman, Bionic Woman and Dr. Who do definitely compensate for the ridiculous artwork. (The guy couldn't even draw hands and feet!!!)
The highlight of this LP is a disco version of my beloved Batman theme. (The cape, just look at the cape…)
.
(Today I found a bandage on the street. It was still in the package, so I picked it up and opened it. It turned out to be a Jesus bandage! This has nothing to with this Soundtrack, but I wanted to share with you any way.

I am thinking about a daily blog about stuff that I find on the street, but I still have not figured out how to cram more than 24 hours in one day.)
Comments: