De Keng
Monday, 2 April 2007
I do the lettering for a weekly comic page that Aloys Oosterwijk makes for Panorama.

It is a comic about sex and it is very funny. Aloys has been making comics for decades and he is a exceptional illustrator. Especially of women. But since most of the readers of this Soundtrack will already know that, I will not talk about all this. Aloys has another side, that little of his fans are aware of!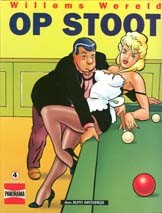 I don't know how and when I found out, but one day I got hold of a demo cassette tape with four songs, recorded by a band called De Keng. It was from 1990, and it sounded as the bands that I loved to see on stage, but I had never heard of De Keng.

First I thought it was a side project of Dutch musicians from other bands, but after some asking around I found out that the singer was Aloys. I had been buying all his comics from the first one he published, and now it turned out that he was a musician too. And a good one, with a real band and a real demo! I played the tape quite a bit and if i had had a record label in 1990 i would have signed these guys.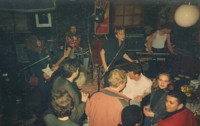 Last week I made MP3's of the four songs on the demo tape and I asked Aloys if he had any pictures of the band from that period. He replied immediately and sent me some pages from a scrapbook, with some short comments. I cannot show you al the pictures, but I will translate the short history of De Keng as Aloys wrote it in his mail:
"De Keng sort of evolved out of De Rambo's, a band where Wouter van der Laan and I wrote the songs. Wilco Wolfers played drums and on bass we had Ben Jansen, who died 15 years ago. His nickname was Mono-Ben. He was deaf in one ear, after he had been fumbling in his ear with compasses.

Later the band had Arjan Vreeken on bass. Untill he went mad and I picked up bass playing. From then on Wilco, Wouter and me were De Keng, occasionally backed up by a keyboard or some horns.
On one of the photos you see us on stage in Paradiso, where we made it into the finals of the Grote Prijs van Nederland. At the end of the evening Wouter beated one of the members of the jury on the head with his guitar because we lost.

After Wouter killed himself, De Keng died too. We tried it without him, but that didn't work. Wouter and I were like brothers, I could not do it without him."
There story doesn't end here, because Aloys started playing again about a year ago. If there is anything recorded, you can be sure to hear it from me. Here is one of the songs on the demo cassette, Als er iemand nodig is.
Comments: