Mulder & Zoon
Sunday, 8 April 2007
As a kid I didn't listen to much fairy tale records. My kids don't like them either, so I have no idea why I still keep so much of them. Or why I bought them in the first place. I have a deep interest in the esoteric meaning of fairy tales, but in the adaptations that are made for records there is usually little left of the original stories. I have done away most of the LP's, but I kept all the 45's and other records that i have bought over the years.

Among my favourites is a series of little books that were also a record, published by the Dutch Mulder & Zoon NV. There is no date on the books/records, but they must be from the early 60's. I cannot remember having seen them as a child and I have no idea how popular they were.

The weird thing is that you cannot read the book or watch the illustrations while listening to the record, because it the same object. And it is pretty dangerous for the record needle to play the thing, because it is not flat. I could only listen to the stories after I used tape to force the books/records into more two dimensional objects than the 3D shape that they naturally have.

The sound quality is poor; even my trained ears have a hard time filtering out enough of the surface noise to enjoy the story. Hard to imagine that little children in the 60's were willing to do so much effort. I guess that Mulder & Zoon produced these collectors items for the future, for people like you and me.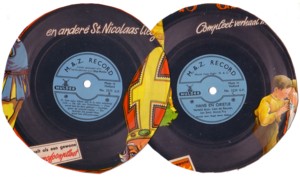 I don't have the complete series. There are at least ten different titles, and I have only six. And two are in the mutilated form, in which many of these paper records have survived their time-trip. But I should not complain, there are days when I hardly think of it. Here is how the records sound, in case you are interested.
Comments: