Dalai Lama
Thursday, 15 May 2008
I love to recycle things. And I hate to throw anything away. To make better use of the daily newspaper that we get, has been an on-going project in my life. After reading the newspaper there is so much else you can do with it!
For half a year I made sort of stained glass window imitations of all the photo's in our newspaper, De Volkskrant. I remember how excited I was when I discovered this possibility, and there were days that I didn't even read the newspaper, but began maltreating the photo's right away. And i felt sad when there were no more photo's left.
The technique is quite simple: with a black marker pen I draw over some of the lines and outlines. There are 1001 little tricks and techniques that I picked up along the way, but after a few months I did all the photo's in one newspaper (usually between 10 and 15) in about one or two hours. Some photo's seem to be made for a treatment with a marker pen, others are very difficult to work over.
I even gave a class at the school of our children for 8 to 9 years olds, and most of them could do it to, and some did it very well and with great enthousiasm.
Last morning I saw a photo of the Dalai Lama, imitating a devil, after some Chinese authority called him so. I couldn't resist jumping up and getting a marker pen.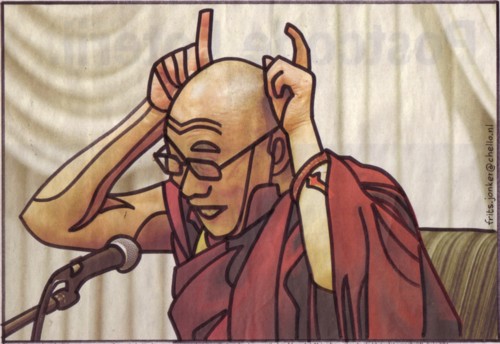 When I started this site, I wanted to publish all my art on it. But it seems now that this site is basically just a podium for this music blog. Apart from the alphabets, I haven't put up any art on the side in months. But here some of my stained glass pictures, as I named them. I had so much of them that I gave most of them away, but there are still a few flowing around. So, If you have empty space on the wall, just ask.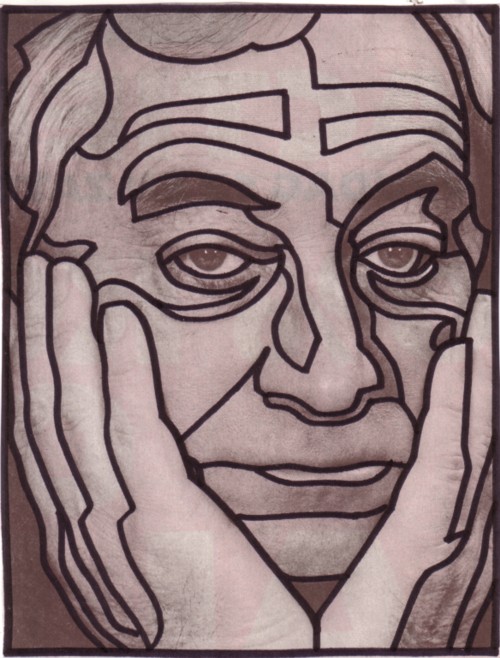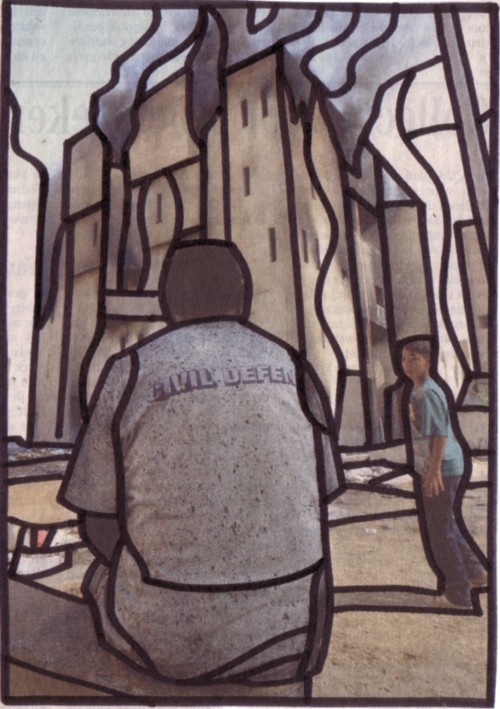 While doing this project, I dreamed of becoming rich and famous, with galleries fighting over my artwork. I would love to sit in a room and to make these stained glass pictures at the spot, with whatever photo people would give me. Somehow, so far, my dreams have not been very compatible with reality.
Here is Alex Chilton with the song Dalai Lama, from his double 7 inch on New Rose Records. The picture that Alex Chilton paints in this song has nothing to do with what the Dalai Lama represents for me, but I find this song very funny.
Comments: