Ska Trek
Tuesday, 22 April 2008
After the second ska wave that swept Europe in the late seventies, ska music never really got off the ground again in Holland. But whenever I do a search on YouTube or on MySpace, I always find many bands that are keeping the genre alive. And although I rarely hear a song that can compete with the songs that are on the first LP's by The Specials, Madness or The Selecter, I always hear enough interesting songs to spend a nice evening.
Yesterday I had another ska urge and spend a few hours surfing. Ofcourse, the bets songs that I heard came from bands that I already knew, like the Tokyo Ska Paradise Orchestra. Here is a video that is on YouTube, along with many others, that show that ska is far from dead:
I like to keep track of what goes on in my life, as you might have noticed if you are a regular reader of this Soundtrack.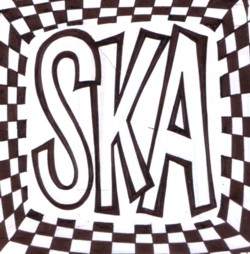 I wouldn't mind if there was a way to record every sound, sight and thought that ever entered my mind, and the minds of everybody else. But so far I have to do with recording a very small selection of the music that I encounter in my life. Recording music creates an interesting problem, because the act of recording reduces the time that can be spend on listening to new music. And listening to these recordings also means that I miss a chance to hear new music. There are days that I wish this was not so, but not today. Right now I am perfectly happy listening to some of the songs that I already heard yesterday. Like this song by a band called The Vulkan Sex Machine:
.
Comments: