Nicolaas Kroese
Wednesday, 2 April 2008
Nicolaas Kroese was born in 1905 and died in 1971. If I were to write the book, that I mentioned on March 29th, he would certainly be in it. Nicolaas Kroese was the owner of several restaurants in Amsterdam, but his main interest was numerology and other pretty far out pseudo scientific ideas. He send letters and telegrams to famous people all over the world, to convince them of his ideas. I never understood what these ideas were. It seems that Niocolaas Kroese did see the light, or at least some of it, but like many people who caught a glimpse behind the Veil of Life, he was not able to express his insights in words that made sense to people like me. That makes him a bit different than some of the other artists that I would like to feature in the book "The Flying Dutchmen" (working title), because I am first of all interested in the people who did get their insights across.

I remember that I have seen Nicolaas Kroes on television when I was eight or nine. It made an impression, but all I remember is a hyper enthusiast man, talking about numbers in which he had decoded the secret of the Life. What that secret was and how he got it out of the numbers, was, and still is, a mystery to me.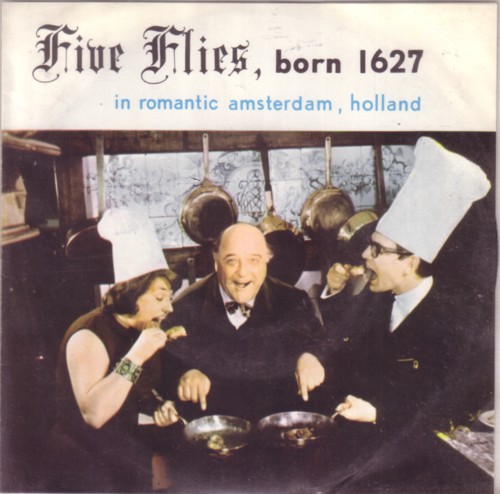 Nicolaas Kroese made two 45´s. One is a record on which he talks about his esoteric ideas. On the other record he only speaks the intro, and the rest is a song about his most famous restaurant, De Vijff Vliegen. The song is sung by Conny Renoir:
.
Here are both sides of the other record, released on Delta. De nieuwe wereldgeboden.mp3…
.
…en Het geheim van 1-2-3-4-5.
Comments: