B-artists
Tuesday, 21 August 2007
Actually I don't like the word B-artists, but that is what they are called in Dutch.

There is probably a better term in English, but I don't know that. In the marginal regions of the amusement culture there are many people trying to become famous, make some money or just having a good time with whatever they are doing.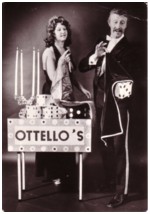 Harrie Berkhout unearthed a large collection of promotion cards for such artists that operated in the part of Holland where I live. It is unclear whether this collection comes from a collector or from some sort of agency.

The pictures are from a period between the early seventies and the late eighties, and they are not only of musicians, although most of them are. There are also clowns, acrobats and anything you can (or cannot) imagine. I took the photos home and carefully watched all of them closely, in little doses, to avoid being overwhelmed with sadness.

In my life I have seen many of such acts or artists or whatever they are called. This is what you get to see on wedding parties, local festivals and such. I have seen some of such acts that surprised me with great music or a interesting show, but much of what I have seen in this category was not a very pleasant experience.

I remember for example that the soccer team, where I played in a few years ago, was treated on a whole show with such acts, in a party centre that looked like a very fake nightclub. We got to see a Blues Brothers imitation, a belly dancer with a real snake, a striptease act and a two man latin band (the same guys as the Blues Brothers; just as the belly dancer and the lady who did the striptease were one and the same). Of course we also got a dinner and lots of alcohol.

I remember that halfway the evening I sank in a depression so deep that I could not imagine that Hell could be worse than that place. But the rest of the team either enjoyed themselves or was too drunk to notice.

I have many records from artists that operate in the same sector as the people on these promotion photos. I can enjoy listening to these records. I find it very different from sitting in an audience and having to watch it. Not much of these records get much playing time at my home, but I collect them with great enthusiasm. For today's Soundtrack I picked a 45 by a guy named Willy Sarphati, singing Ik zit op een kameel. If you are interested in trading material like this, you know where you can find me.
Comments: