Crawatte
Thursday, 23 August 2007
For more than 100 episodes I have been doing the lettering for a comic that Roel Venderbosch makes for Malmberg, Prof Oja-Aha. Roel is fascinated by how things work, and in this comic he explains all kind of things to kids. Very funny and interesting for me too, because with many things I don't know how they work. Here is an example of that comic, an episode about optical illusions:


After lettering a few dozen of episodes i found out that Roel played in a band, Crawatte. I ordered a CD, Knickerbocker bingo, and was surprised. I mean all of my friends play in bands, but you don't want hear 90% of those CD's. You wouldn't believe the crap that I get send over the mail from people that I consider as my best friends. I never say this in public of course, but on the Internet I can say whatever I like: most of my friends use the Internet for other purposes than reading blogs like this one.
Anyway, Crawatte had already ceased to exist when I discovered them, and if I am right, the three CD's that they have released are not all still available here.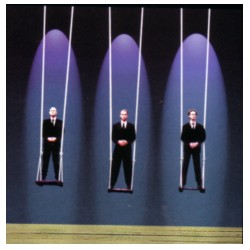 But here you can at least listen to quite a few songs of Crawatte. Crawatte can also be found on MySpace and I just read there that Crawatte did a reunion tour earlier this year. But that might be a joke. Their eclectic music certainly is not, although Crawatte should be filed near The Bonzo Dog Band and similar bands. They mention Zappa and Sesamestreet as major influences. As always I have little to say about the music. Better check it yourself!
Here is a song from their third CD, Half alive.
Comments: