The Ceramic Hobs
Wednesday, 15 August 2007
Today I found an envelop in my P.O. Box, with two CD's and a letter in it. The hand written letter said:
"Hi Frits Jonker,
For quite a few years I've been receiving your flyers and small zines in the post from various contacts, including Mark Reeve, Stream Angel, Jase Williams. Always interesting reading/viewing. One sheet featured a beautiful handmade font of lettering in "Alien" style. If you at the inside of the enclosed AL AL WHO album by my band The Ceramic Hobs you will see that we "borrowed" this, without permission, but with a namecheck to you in the thanks list!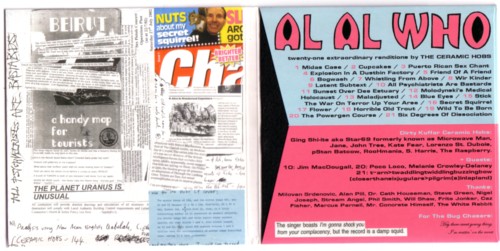 I do hope you find this flattering and a pleasant surprise and you're not annoyed. Believe me, we are a struggling OIY collective of artists, very lucky if we break even on our records and shows, and I'm afraid we couldn't afford to pay you anyway…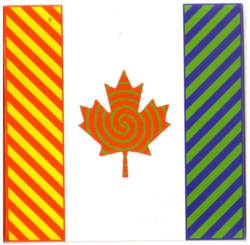 Also enclosed for you a recent compilation on the label our guitarist pStanBatcow. If you'd like more copies of the album please just ask. There are 500 pressed. Although 150 have been given away in this first week of release…

Thank you for your lettering and especially for your printed work which )as you probably realise) circulates to a very wide audience beyond the people who have personal contact with you…
All best regards,
Simon"
The music on the AL AL WHO CD is difficult to describe, but it reminds me of Captain Beefheart and The Fall.

I hope I am not offending anybody here, this is not very familiar territory for me. But I like the CD: the songs are very powerful and there is so much going on in the songs that it is never boring. My favourite is a track that has some rockabilly vibe to it, Cupcakes
.
The "Alien" alphabet that Simon got a copy of, is one of the many alphabets I have made. If you want to see more of these, try this link. I feel very flattered indeed that a band like The Ceramic Hobs used one of my alphabets, and I appreciate very much that they send me two CD's and a letter.
Comments: