Christmas in July
Sunday, 29 July 2007
I don't know if it is really called off-beat rock'n'roll, but that's how we call it at our place. I mean rock'n'roll with a ska-like rhythm. There is not very much of this; I would love to see, no hear a few CD compilations with this particular type of music.
A great example, and a family car-hit for more than two years now, is Christmas in July by a band named Toini & The Tomcats.
This band is from Norway and there are four CD's available, but the band doesn't seem to exist anymore.

I have spend many years of my life listening and watching rockabilly bands, but I still get a kick when I hear songs like this. Usually I am not much into middle of the road stuff, but both Toini and The Tomcats have that hard to define little extra that makes the big difference.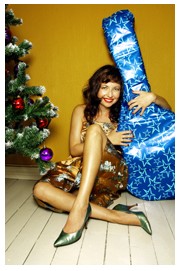 And in this Christmas song they play the sort of offbeat rock'n'roll, which our little family likes to listen to whenever we rent a car and go for a vacation. If you happen to know more songs in this category, I would love to hear that. We plan to go away for two weeks next month, so I am working on a new CD compilation right now, and there is still 15 minutes space left.
Comments: