Restless
Sunday, 22 July 2007
Has there ever been a history of pschychobilly written? I have never seen it. I would love to read such a book.

Last night I played a Restless LP and remembered some of the thoughts that I had when I first heard it in 1984. I remember that this kind of music was called neo-rockabilly or neurobilly then, probably because almost all these records came out on the Nervous label. The term psychobilly seems to have been taken from the song Psycho for your love by The Meteors.
That first Restless LP made an enormous impression on me. This up tempo rockabilly resonated perfectly with my mind. Unfortunately the band did not make the same impression on me when I saw them live. I saw them a few times, and I was very disappointed that they seemed so arrogant, especially lead singer and guitarist Mark Harman. And boy, he could sing and play! But never during any of the concerts that I saw, I got the feeling that the band and the audience had real contact, or were one, as sometimes happens.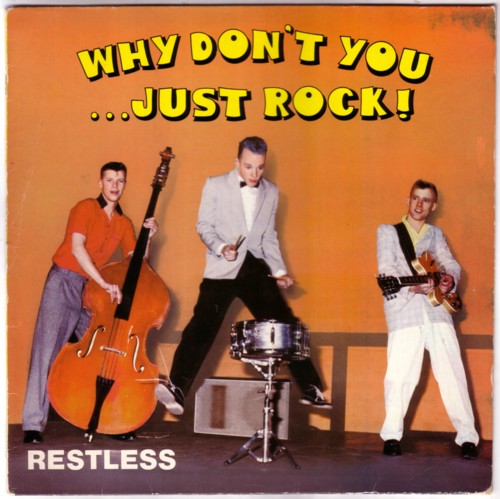 Their next LP's were all great, but not as great as their first one, Why don't you just rock. There is a huge difference between being cool and being cold. I did like their fourth or fifth LP though, After midnight, which seemed like a genuine effort to widen up the narrow rockabilly standards. But nothing came close to what they did on their first LP, which I played so often that I had to buy another copy.
Later, after I had already given up hope that they would ever finish what they started with Why don't you rock, Nervous released an LP with demo's from their early years, 1981-1983. This sounded very much like what they did on Why don't you just rock. Now I finally got my wishes fulfilled, and still I was not satisfied. For the first time I began to realise that an LP is not just a collection of songs. Restless was somehow not able to download their talent in LP format. And not in CD format either: there are many compilations out, but none of these do justice to promise that have on Why don't you just rock.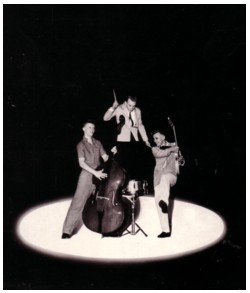 I am able to make my own compilation of all Restless songs that are available, so you won't hear me complain, but I still think it is a pity.
I may sound a bit grumpy about the band, but let there be no doubt about their place in the Soundtrack of my life. Here is It's a scam, a song that has all the ingredients that make Restless one of the best neo-rockabilly bands.
.
(If anybody has any live recordings, demos, outakes or other audio material of this band, I am more than interested!)
Comments: