Toverspreuken
Tuesday, 28 October 2014
Henny Vrienten laat geen kans onbenut om in interviews zijn favoriete dichtregel te citeren: "If equal affection can't be, let the most loving one be me." Dat komt uit een gedicht van W.H. Auden. Ik lees zelf niet graag gedichten, maar deze regel vond ik uiteraard ook meteen mooi toen ik hem voor het eerst las. En met de jaren wordt ie alleen maar beter, daarom heb ik hem nu maar eens geletterd: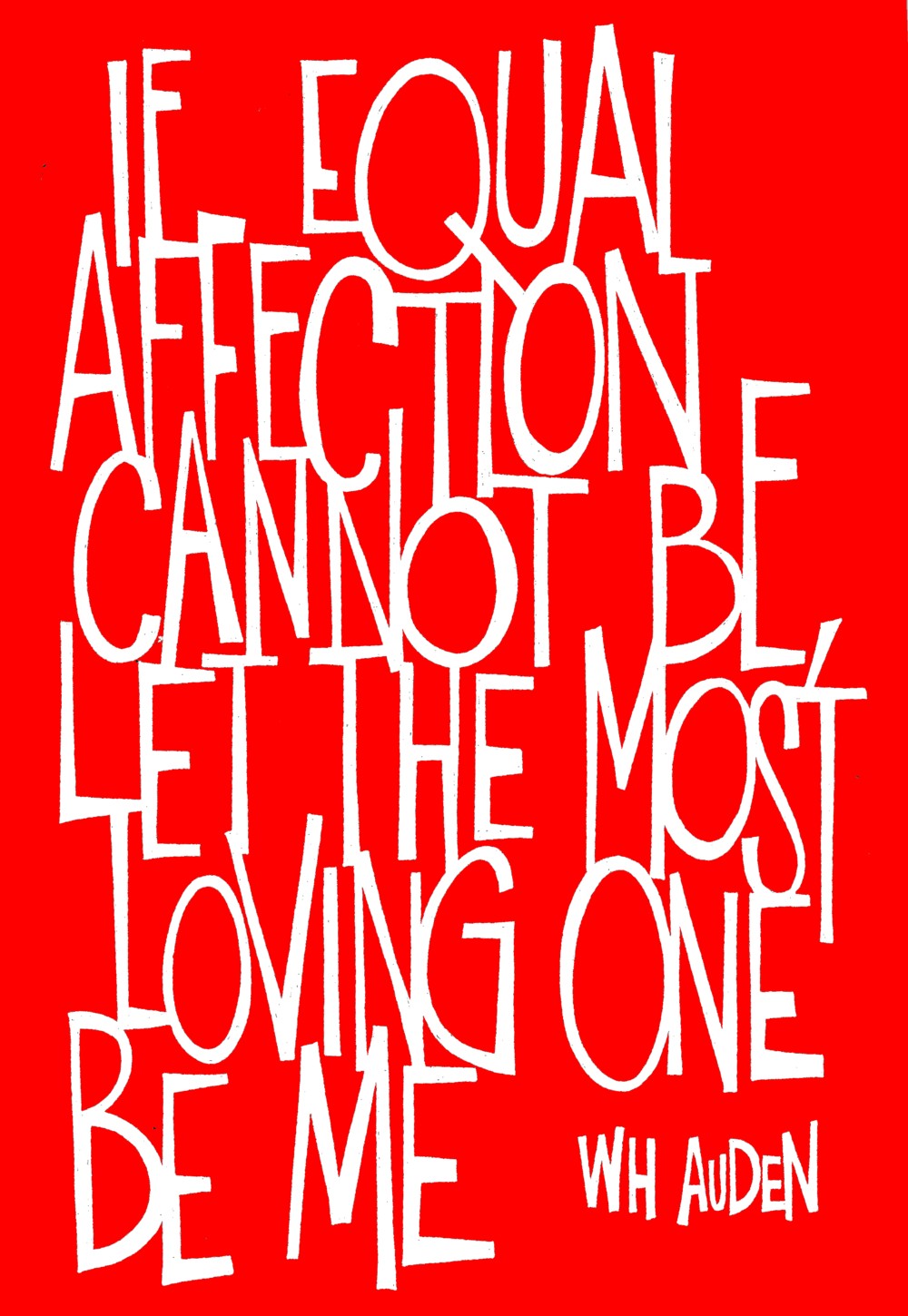 Deze uitspraak gaat niet alleen over liefdesrelaties, maar ook over vriendschappen, kinderen, ouders, buren en toevallige ontmoetingen. Hoe vaak heb ik niet de tweestrijd gevoeld tussen mijn vermeende eigen belangen en die van een ander. Het blijft moeilijk om te beseffen dat er alleen maar gedeelde belangen bestaan en dat die hele tweestrijd een illusie is. Natuurlijk zou ik kunnen kiezen om zoveel mogelijk te doen waar ik op het moment zin in heb, maar dat heb ik al genoeg geprobeerd om te weten dat ik daar niet beter van word. Ik weet dat het beter is om het leven te accepteren zoals het zich aan mij voordoet, omdat ik geloof dat dit de uitkomst is van mijn diepste wil. Dit is een religieuze, want niet te bewijzen, overtuiging. Maar ik geloof dit meer dan mijn eigen "flimsy wishes", zoals Gurdijeff de voortdurende stroom van veranderende wensen en neigingen noemde die ons leven willen bepalen.
Zo'n zin als deze van W.H. Auden komt soms vele keer per dag in mijn hoofd op. Het helpt soms om me in een tweestrijd te kiezen voor wat Auden zegt. Daarom houd ik zo van dit soort teksten en daarom noem ik ze spreuken in plaats van uitspraken of citaten. Het zijn een soort toverspreuken: ze zijn in staat om de werkelijkheid te beïnvloeden.
Comments: