Ambigram music
Monday, 17 September 2007
A few weeks ago I asked if there are any musical ambigrams. In pop music there seems to be little to none, but in classical music there are some examples. In Scott Kim's book Inversions I found this piece of table music, originally attributed to Mozart: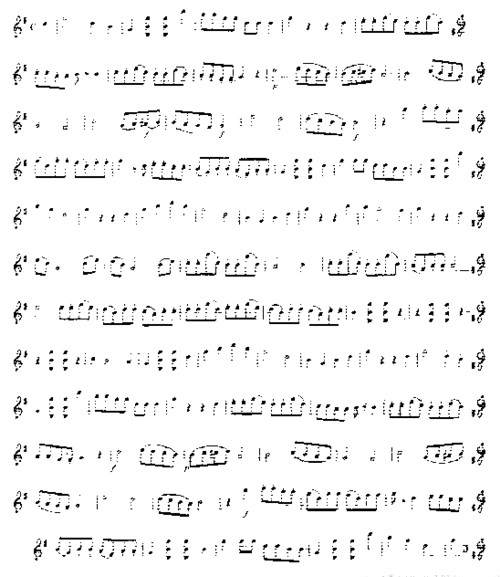 This music is a 180 degrees rotation ambigram: it is written to be played by two pianists who sit at opposite sites of the sheet music, and then they both play the same tune. I have no idea how many of this ambigram compositions exists, bu it seems pretty genius to me. I wonder how it sounds! If anybody has a recording of this tune (K. Anhang 2884 dd), I would love to get a copy.
There is of course a lot of strange music made, that are crossovers between music and other art forms. This happens to be a subject that fascinates me, but it not easy to find information about this stuff. For example, here is the sheet music of a composition by Jurriaan Andriessen ( a nephew of the Andriessen that I mentioned earlier in this Soundtrack):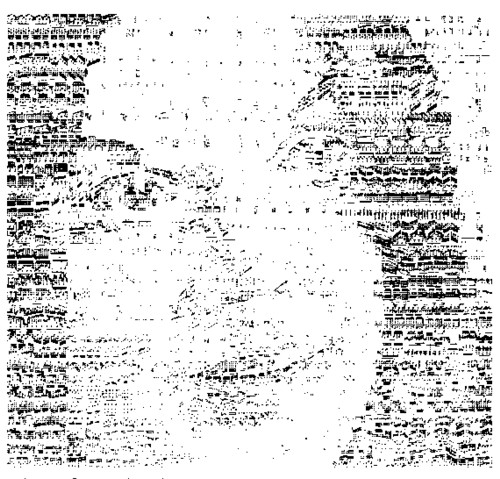 It is a portrait of his girlfriens Ludwig. In an interview he told that he spend thousands of hours on this musical portrait. I have not heard this composition either, so if anybody has a recording, or, even better, can make a recording of an attempt to play this, I would love to hear that.
Well, I could not think of any music that fits today's story, so I choose a composition by Hermeto Pascaol, who used a speech by a the Brazilian president (?), and built a song around a few sentences that the man spoke.
.
I got this recording on a tape that Roland Vonk sent me in the late middle ages. Also on that tape is this composition, which is created in the same, almost mathematical, way:
Comments: