Techno tapes
Tuesday, 11 September 2007
In the mid nineties I slowly began listening to the music that killed the club scene that I had enjoyed so much for all my grown up life. But only at home, and in small doses.
By then it was called techno or ambient, but the names seem to change faster than the music itself, which to my ears in most cases still sounds like a poor version of the real thing. But I should not say this, because it is not my cup of tea.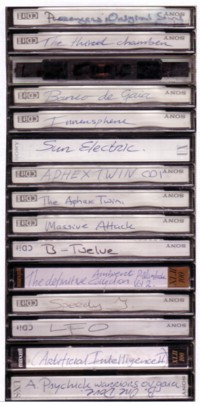 At first it was called house, or garage. I disliked it so much that I was sure it would fade away within a few months. Who wants to dance on a boring computer beat when you have infinite amounts of real good dance records in endless variations and styles? I was completely wrong: within a few months all clubs had their DJ's playing the same old boring computer loops. And even stranger: for the first time DJ's were regarded as stars or musicians. Maybe some of them were, but most were certainly not.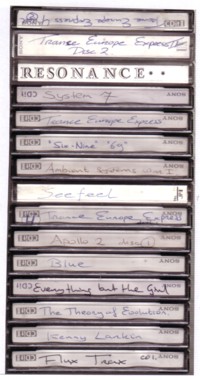 Today I cleaned up a forgotten corner of my tape collection and re-discovered a pile of cassettes with ambient/techno/minimal soul/orwhateveryoucallit. I once got them from a guy who wanted to prove me wrong, and to show me that this kind of music is much better than I thought back then. Well, I think he was right: when I listen to it now, I hear more nuances and more soul than I heard 15 years ago. But let it be clear: there is more soul on one scratchy James Brown record than on all the 30 tapes that I just brought to the local charity shop!
The only tape that I kept is from Apex Twin with his CD Classics. I listen to it while I type this, and I would lie if I said that I love it so much that I wish I had the original CD, but some of the more noisy songs do make my sensors bleep.
But in stead of playing a song from this tape, I choose another Apex Twin track, from the Orbitones CD that I mentioned last month. It is called Bucephalus bouncing ball.
Comments: