Drum lessons
Saturday, 15 September 2007
I wouldn't mind having to write a weekly column about music for a magazine. And certainly not if it was about drums and percussion. I have no memory for names, dates and exact details, but I do know some stories.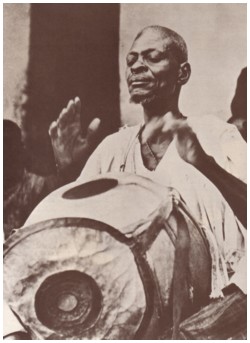 While going trough the beautiful photo book Planet drum, that Mickey Hart and Fredric Lieberman made in 1991, I remembered a story that I probably have read in drumming at the edge of magic. This is another book of Mickey Hart. which he wrote together with Jay Stevens. Unfortunately I don't have a copy myself, but a friend of mine does, and I can read it whenever I want it. Every time I lend the book, I keep it a little longer, hoping that one day the book will become mine.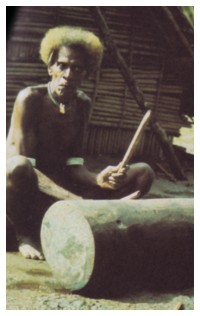 The story I remembered is about a boy who lived in a tribe and who was chosen to become the new drummer. In stead of teaching him how to drum, the old drummer only let him watch and listen. After a few years, the old man said the boy was ready. The boy was locked up in a hut with a drum and to stay there without eating or sleeping until he knew how to play. After a week or so the tribe heard drum sounds coming from the hut, letting them know that the boy had mastered his instrument.
I love this story because it is true. We think that you have to learn things from outside, but true understanding comes from inside. Without a connection with the teacher within ourselves, we will never be good at anything.

The contrast between this story and what is told on the record that I picked for today, cannot be bigger. It is a one-sided square paper flexi black&white picture record, with a complete drum lesson by Eric Delaney. Here is it:
Comments: