My father
Thursday, 6 September 2007
The reason I had no time to write the day before yesterday is that I spent a long weekend at my father's place. He lives alone in a giant house, and that needed to be painted. He had asked a local painter what the job would cost. The quote was rather high, as could be expected for such a large house that that has not been touched in ten years, but since I am a painter too, my father asked me if I thought the price was reasonable. He didn't dare to ask me directly if I would paint his house, but I got the hint. So that is what I did last week.
My father fell on his head eight years ago, while working on a ladder. He was in coma for three weeks, and usually people his age don't get over that, if they wake up at all. My father did wake up from his coma, and although he had some serious physical and mental handicaps, he picked up living his life again, as far as possible. He has been in the hospital again many times in the past few years, with serious problems, like heart attacks and brain seizures. More than once a doctor told us he would not survive whatever he had this time. But he did!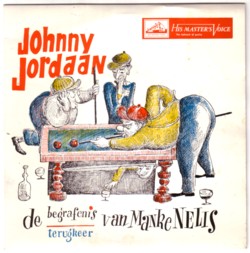 I remember my father buying records and listening to music before he fell of that ladder, but he was never very passionate about music. But after his coma, one of the most remarkable changes in his behaviour was a passion for music. Not the music that you and I want to be exposed to on a daily basis, but nonetheless. He especially loves to listen to old popular Amsterdam music, known as Jordaan music. This is music sung by people from a certain part of Amsterdam ("De Jordaan") and all the songs are also about that part of town. Most of it is very kitsch, but there have been some great records made in this genre. One of my father's favourites, which makes him cry even if only talks about this song, is "De begravenis van Manke Nelis", a song about a strange funeral in De Jordaan, sung by the champion of this genre, Johnny Jordaan.
My father has all the CD's with Jordaan music that can be bought in music stores, but I also made him some CD's of obscure Jordaan records that I bought. I wish I could find more!
Hold tight, here is "De begravenis van Manke Nelis"!
.
And on side B of this 45 is part 2 of this story, "De terugkeer van Manke Nelis":
.
This kind of songs, which are more stories than songs, have a long tradition in The Netherlands. Today you rarely hear them anymore, but up to the seventies such songs were in the hit parades. I must admit that I love to listen to stuff like this, but unfortunately it is all in Dutch, so I will try to keep away from it in this Soundtrack. Maybe once a month. Or every two weeks.
Comments: