Dierenboek
Thursday, 22 September 2011
Jan Turkenburg stuurde me dit reclameboek uitgegeven door de Raiffeissenbank en de Boerenleenbank in 1970: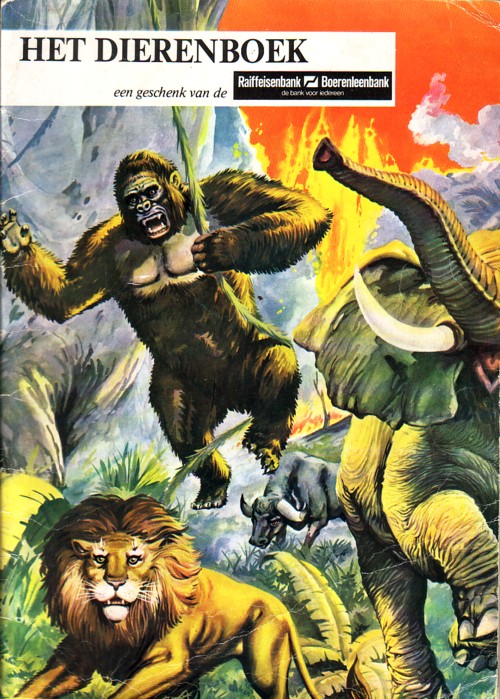 Het is oorspronkelijk een Spaans boek, en ik vermoed dat in de Spaanse versie de plaatjes los verzameld en ingeplakt moeten worden. Dat zal voor de Nederlandse banken te duur geweest zijn. Het blijft een aardig boek, waarin zowel de evolutie van het dierlijk leven op aarde als allerlei verschijnselen als symbiose en mimicry met mooie tekeningen worden geillustreerd.


Ik ben op het moment erg gefascineerd door illustraties uit de periode van ongeveer 1930 tot 1970, waarin de nog niet geheel in kaart gebrachte aspecten van de wereld in beeld werden gebracht. Na 1970 namen foto's die taak vrijwel geheel over, maar daarvoor waren tekeningen de enige kans om bepaalde natuurverschijnselen, dieren of zelfs locaties te tonen. De tekenaars die dit werk deden moeten zich zwaar in hun onderwerpen verdiept hebben en hun invloed op onze beeldvorming van de wereld moet immens zijn geweest. Ik heb als kind al dit soort boeken gelezen en ik heb alle plaatjes zonder bijgedachten in mijn herseens hebben gedownload. Het kwam nooit in me op om te betwijfelen of zo'n tekenaar die dino's en diepzeevissen niet uit zijn duim heeft gezogen.
Overigens wordt de tekenaar van dit Dierenboek niet vermeldt; dat was niet ongebruikelijk bij dit soort boeken. De drie(!) professoren die de twee alinea's tellende inleiding schreven, worden wel met grote letters genoemd, maar wie de man of vrouw is die de meer dan honderd spectaculaire schilderijen van dieren en hun leefomgeving maakte, was kennelijk niet belangrijk genoeg.
Comments: