Sigarettenverpakkingen
Thursday, 29 September 2011
Onlangs kreeg ik van Frans de Jong dit zakje: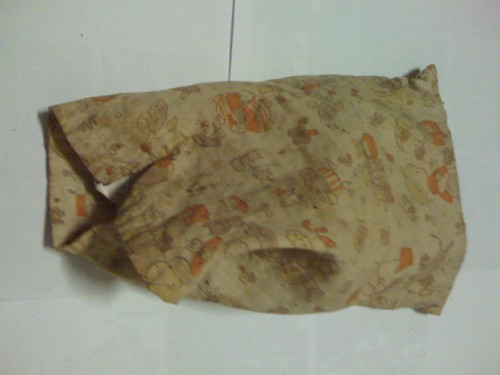 Daarin zat dit:
Op het eerste oog lijkt het een nogal vieze verzameling kapotte sigarettendoosjes, maar oud papier is oud papier, en dat wordt hier met respect behandeld.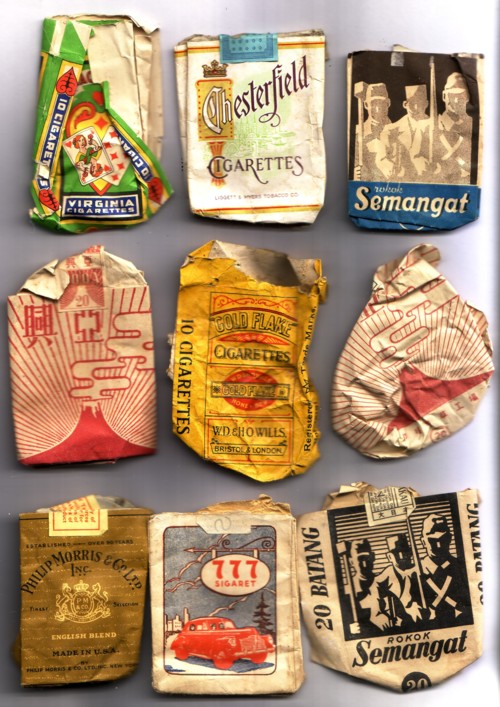 Dus ik heb alles zo voorzichtig mogelijk opengesneden, platgevouwen en waar nodig weer aan elkaar geplakt.
Het zijn volgens mij allemaal sigarettenverpakkingen uit de periode van en/of vlak na de tweede wereldoorlog. Sommige verpakkingen zijn in zestig jaar niet of nauwelijks veranderd:
Mijn moeder vertelde dat ze na de oorlog graag "playerde", een spelletje dat gespeelde werd met kaartjes die uit sigarettendoosjes werden geknipt. Hier staat een uitleg van de spelregels.
Tot mijn grote vreugde zit er ook een aantal verpakkingen in die werden gebruikt om te playeren. Dat waren, in tegenstelling tot de meeste verpakkingen in dit zakje, dus kartonnen doosjes:
Na een paar uur frobelen had ik de meeste verpakkingen min of meer tweedimensionaal gekregen, zodat ik ze onder de scanner kon leggen. Dit zijn de mooiste: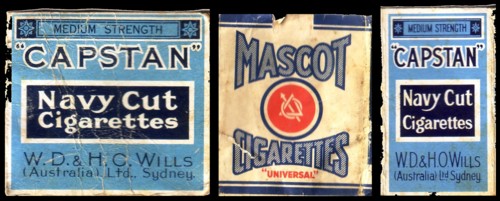 Op sommige verpakkingen zaten nog (stukjes van) accijnszegels.
Daaruit kon opgemaakt worden dat in ieder geval een deel van deze verzameling afkomstig is uit Nederlands Indie. Dat verklaart waarom er Japanse en Amerikaanse merken tussen zitten. Het jeukt in mijn handen om alle ontwerpen na te tekenen. Het zijn prachtige ontwerpen voor posters of T-shirts. Maar waarschijnlijk is dit allang gedaan, en ik denk niet dat er veel vraag naar is. Voorlopig heb ik me weten te beheersen en alleen deze twee gedaan:
Comments: