Sonopresse
Wednesday, 20 August 2008
In 2003 Roland Vonk and I did an interview with Leo Ritmeester, the man who ran Sonopresse for over four decades. Sonopresse was the largest production company of flexi records in Europe. This interview has been broadcasted by VPRO Radio and Radio Rijnmond. But, according to the rule known as "Kill-your-darlings", the best part of the interview was not used, because it didn't fit in the show that Roland edited out of the several hours talk that we had with Leo Ritmeester.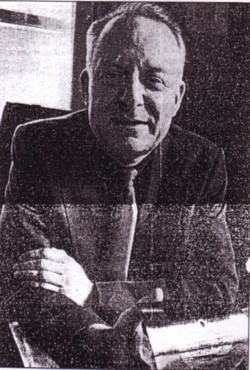 Leo Ritmeester told us about an invention that never made it on the market. In 1974 he was part of the team that had developed a process for printing moving images on flexi records. They had several machines built and a series of movie-flexi's, that they presented on the Funk Ausstellung in Berlin in 1975. These flexi's contained about twenty minutes of good quality full colour moving images with sound. The production of these flexi-movie-records cost somewhat around 5 cents per record. There were several millions spend on trying to sell this technique, but it was way before it's time and it was off the market before it even was on it.
One such machine was still in a garage somewhere in Rotterdam when the interview was made, but I have no idea what happened to it since then.
Leo Ritmeester also told us about ways of printing CD's on slabs of plastic. He was sure that this is possible and had contact with people knew how to do it. But this technique also never reached the market.
There is no conspiracy behind the holding back of these inventions, as some people might be tempted to think. But it is very strange nevertheless.
Here is the "killed darling" featuring Leo Ritmeester a.k.a. Mister Sonopresse:
.
Comments: