13 cats
Monday, 4 February 2008
Last week I discovered a CD from that I have completely missed and that excites me very much. Here is the opening track, that blew my mind when I first heard it:
.
The band is called 13 Cats and, as I read on their website.
"13CATS is a rockabilly super group featuring SLIM JIM PHANTOM (The Stray Cats) on Drums, TIM POLECAT (The Polecats) Vocals , SMUTTY SMITH (Rockats) and JONNY BOWLER (Guana Batz) on stand-up bass and DANNY B HARVEY on guitar.

As most of you know Danny was also a member of THE ROCKATS as well as being a founding member of LEVI DEXTER and the RIPCHORDS."
The band also has a MySpace page, where you can hear some unreleased songs and also buy the CD, of course.
I always loved the voice of Tim Polecat, and I loved The Polecats anyway. Within the neo rockabilly scene of the eighties their LP was a much admired masterpiece. The sound was so much better than that of most of the other LP's, but they also had style and great songs. All the other members of 13 Cats will be known to neo-rockabilly fans too. I am amazed and pleased to no end that these guys made such a great CD in 2003. Most musicians from that scene have stopped playing or are still playing the same old stuff as they did in 1985. What a wake up call for all their colleagues must this be:
.
I love successful comebacks and success that lasts a life span.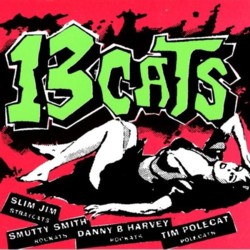 The whole idea that people can only have a short peak period in whatever they do never seemed to make any reason to me. Okay, you loose certain things when you grow older, but for an artist I can see no reason why her/his inspiration and drive cannot last a life time. There are a few people who have proven that it is possible. Not much, but one is enough to demonstrate that it can be done.
Particular the track Sex hex, but also other songs on the CD ( Teddy boy kung fu weapon , Jungle man – robot girl) are actually better than what most of the band members did in their previous lives. And this is certainly better than 90% of the songs that I hear from other neo-rockabilly bands. So, here is one more time Sex hex by 13 Cats!!! And there is no need to tell me that the organ riff is stolen from The Osmonds' Crazy horses; I heard that, and that is one of the reasons why I love this track!
Comments: