Illustrations
Monday, 18 February 2008
For the covers of the cassettes and the fanzines that I made, I was always looking for nice illustrations. That was not easy: because the original drawings were often in colour, and had different sizes than what I wanted to use, and because I used photocopying machines to adjust them, the result was often poor. If I really liked an illustration, I sometimes I copied it myself, by hand. That gave me also the possibility to change a few things that I didn't like in the original drawing. For the front and back cover of an issue of my zine Hystereo I used a drawing by Holtan, that I found on an LP cover. I don't think I kept the LP, but you can easily see what I changed in the original drawing:

Here is another drawing by an anonimous artist that I copied for using it in a zine, from a Chinese LP called For people who hate jazz.

Sometimes, if I could not find any illustrations elsewhere, I made them myself. But I rarely felt happy with my own drawings, I much rather used those of others.
I have a small archive of illustrations that have to with music. I just cut them out of magazines, or (photo) copied them, and glue them on pages in a scrapbook. It is completely useless collection, but here are a few pages anyway: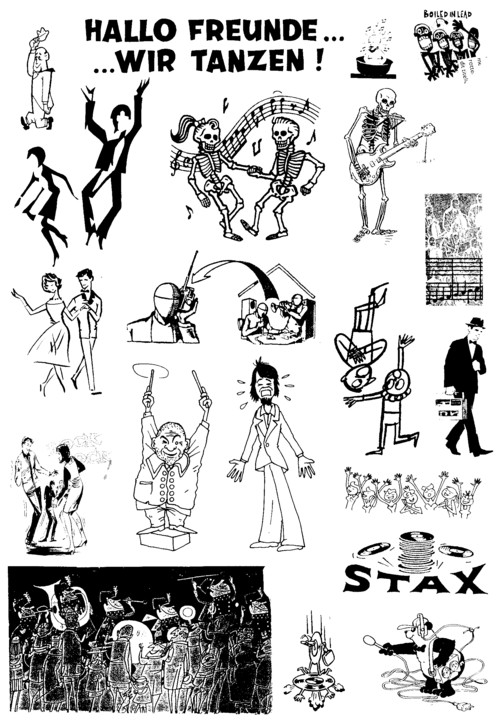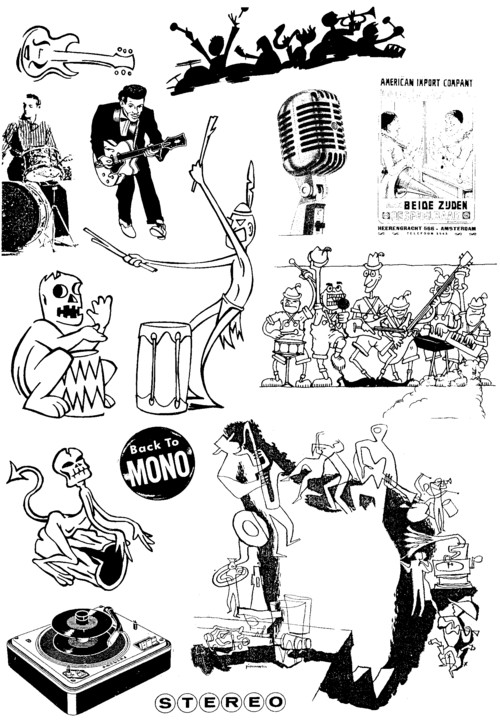 This was never meant for publication, and some illustrations have to be cleaned up before you can use them.
I wonder if there are sites where you can find more of this artwork. I guess that I a not the only one trying to upgrade his home made CDr's with nice illustrations on the cover.
Well, for today's soundtrack I choose a 45 that I bought recently. It is by Sonny and I think it is one of his best recordings! Both the music and the lyrics are extremely, eh, what I like.
Comments: