Bleekertje
Sunday, 28 September 2008
Most of the Dutch advertisement records that were released as series on special labels in the 60's, as the ones that I have been writing about for the past few days, are not rare. They are just hard to find, because nobody seems to have any interest in these records.
I have almost all series complete, but of the six records that were released by Bleekertje, a company that made cleaning products, I have only two.
One with a sleeve: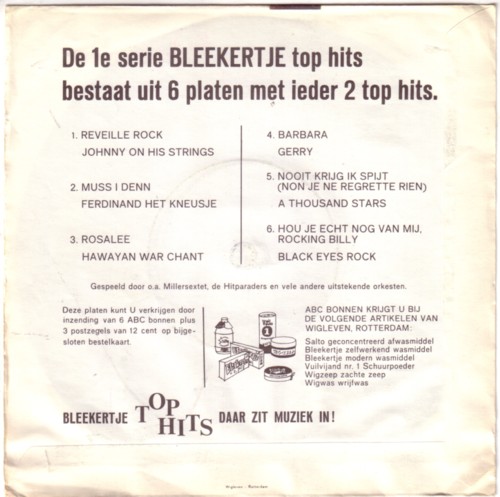 …and one without:
The black flexi-records are one-sided: the two songs on each record are on the same side. Based on the four songs that I have heard, and also on the titles on the backside of the sleeve, this seems to be one of the most interesting Dutch advertisement labels. The musicians are named on the label, and some of the names were popular in those days, like The Miller Sextet. But the song I want to share with you is Black eyes rock by the Dixieland All Stars of New Orleans:
.
Comments: