Edsel
Tuesday, 16 September 2008
Milan Hulsing asked me to go with him to a flea market last week. I know that place: I have bought some great stuff there. But I couldn't go, so I asked Milan to buy a few records for me. You know my taste, you can always buy a pile of records anywhere of the kind that are featured in this Soundtrack.
Last night Milan brought the records that he bought for me. It are four LP's and one 12 inch record. Making scans of LP covers is a lot of work. Because my scanner is A4 size, I have to make four scans, and then put them together. That is about fifteen minutes work for each cover, and if want to do all four LP covers that would take more than an hour. The LP´s are worth it, but they will have to wait till I have a bit more time. The 12 inch is my favourite find: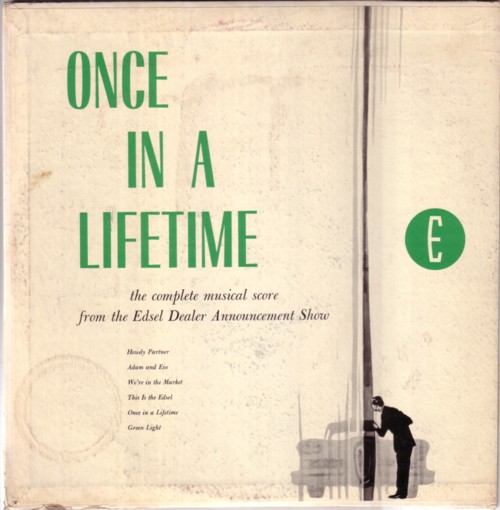 And here is the back cover:

On the LP are six songs from "Once in a lifetime", the Edsel Dealer announcement Show that was held in 1957 in New York, Detroit, Chigago, New Orleans and San Francisco. There is no info on the record about the writers, composers or musicians. All the songs are about Edsel cars, of course , but I had to choose one, so this as today's soundtrack:

.
I have several of these advertisement records with songs from shows that were organised for dealers. It seems that especially American car manufacturing companies liked to make these records in the sixties. But I also have heard other product show records, made by Coca Cola, DuPont, etcetera. Enough for a CD compilation.
Comments: