Jolita
Tuesday, 30 September 2008
That the music on most of the Dutch 60's advertisement record labels was crap, is in most cases compensated by the way these records look. But there are exceptions, like the EP's that were given away for free when you bought a pair of Jolita nylons.
The six songs on each record were imitations of hits, recorded by anonymous musicians at the Pey Studios in London. Jolita didn't even had their name on the label: it seems as if the Pey Studios had these records in stock for any company who couldn't afford original records. I have no idea how many of these EP's Jolita bought/distributed; I have only two. Here is one song from one of the EP's:
Jolita released several other advertisement records. The one-sided cardboard flexi with a a cover version of "My heart belongs to only you" by Joke van de Burg & The Skymasters is a real beauty:
This record was meant as a mother's day gift, but all on the copies that I have ever seen the plastic part, that has the groove in it, is separated from the cardboard, so the record cannot be played.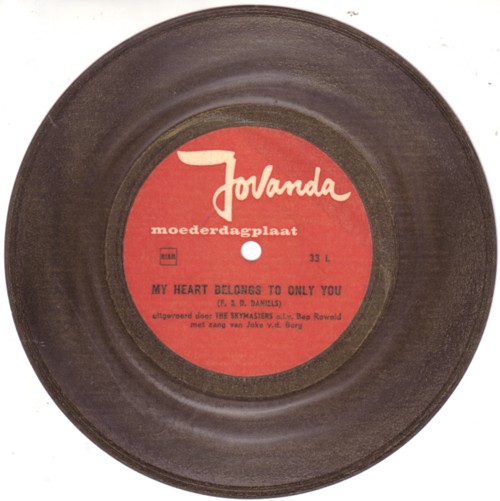 Luckily I also found a normal pressing of this record, without a sleeve, but at least with sound:

.
To be continued tomorrow!
Comments: