Soccer stadium ad songs
Tuesday, 23 September 2008
I am still trying to find information on the advertisement songs that were played in Dutch soccer stadiums in the 60's. (See here, if you want to read a little more about this.) I know that my questions are not easy to answer, but I would love to have a complete list of all the advertisement songs ever played in a Dutch soccer stadium in the 60's, I would love to have a CD with recordings of all these songs, I would love to know if these songs were played from records or from tapes, and finally I would love to know who produced these recordings. I have more questions, but I thought it would make a better impression when I am not over-asking.
There is no doubt that soccer and advertisements have many relations. Especially tobacco and beer company aimed at the people who had an interest in soccer. Last week I bought this book:

The book was published by the Theodorus Niemeyer NV in 1964. There were some soccer related ads in the book for Samson shag, one of the brands that Niemeyer NV produced in those days, but no reference to ad-songs. I don't even know if there ever was a Samson jingle; i cannot remember one.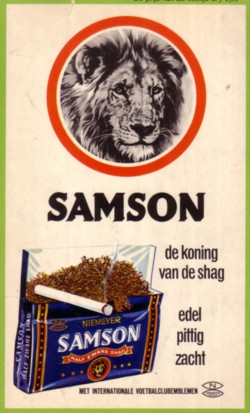 Apart from the tobacco songs, I remember a song in particular that I heard in soccer stadiums in the 60's and that, as far as I know, never was released as record. It is about "Caraco ijs". The song ended with the line "Caraco ijs, geweldig lekker!". If anybody has a longer recording of that tune (or any other sound and/or info on this topic) please let me know!
Here is a YouTube video of the short Caraco-tune, played by the Dutch Rhythm Steel & Show Band:
.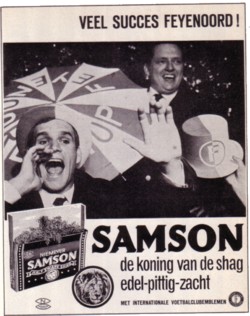 From somebody whose name I cannot remember right now (he was a member of Het Nederlands Jingle Genootschap) I once got a tape with 23 ads that were broadcasted on the pirate radio stations Radion Veronica and Radio Noordzee. Only one of the ads on this tape was also released as records ( "Skol International", sung by Patricia Paay ), many were completely uninteresting, but these two seemed to me candidates for the "Soccer Ad songs CD compilation":
.
.
North State
Lexington Filter
Comments: