Singing handkerchiefs part 2
Wednesday, 3 September 2008
When I wrote about the "singing handkerchiefs" ( here ) I had only two of these very strange records.

Today I bought a third one. It is also a "record" that was made for the "Oostenrijk-week", whatever that was. I bought them at Flesch Records, and believe it or not: Harrie, the owner, blew his nose in one of these record/handkerchiefs.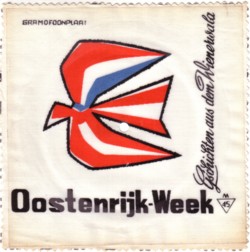 Luckily I already had that one. But if you think that your life needs a "Singing handkerchief", and if you don't mind a bit of snot on the back side, you can have it.
Like I already said: the records are not easy to play on a record player.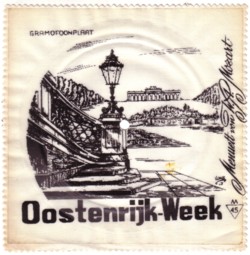 But these new copies are in a better condition than my old ones, so at least I could record them for the biggest part. I cannot imagine that anybody will want to hear these records, so I recorded them all three together for you:

.
Comments: