Lion Tops
Monday, 29 September 2008
Of course there were much more special advertisement record labels in Holland in the 60's than the few that I have written about so far in this Soundtrack. But I only wanted to mention the labels that released pop music. There are also advertisement labels that released cabaret records, or fairy tales, classical music, stories for children, etcetera. Of course you will have to read about all these labels too in the near future, but first I want to mention all the pop music labels.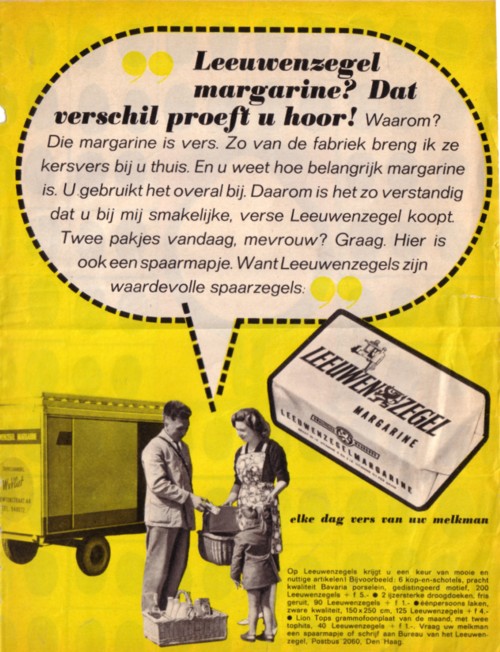 Leeuwenzegel, a Dutch company that produced margarine, had a label called Lion Tops. There are, as far as I know, nine ordinary 45's, with different bands on each side, and three EP's, with on each side a different band playing two songs. All the information that I have about the Lion Tops records comes from a printed letter, that I found in one of the sleeves: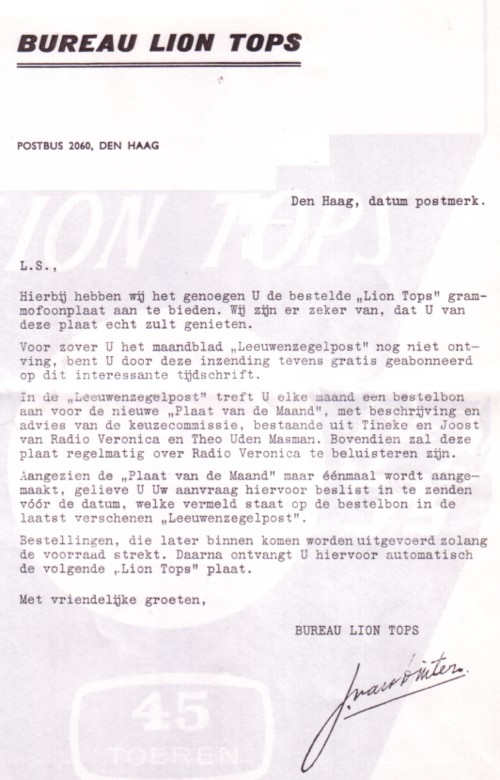 All the single-records came in the same sleeve:
I have no sleeves for the EP's, so I have no idea if these exist and/or what they looked like.
The names of the musicians seem to indicate that it are no real bands but studio musicians. Bill Shade & The Rockets, Jean Campbell & the Blenders, The Town Sparrows and The Applejacks*… these are the kind of names that advertisement agencies make up when they try to sound hip. But I don't know that for sure. It is also unclear if all musicians were from outside Holland. Some of the singers on the first releases sure are from *inside Holland.
Here is my favourite band, The Beating Five, with a song that sounds vaguely familiar to me, so it is probably a cover:

.
Comments: