NoraToon
Thursday, 25 September 2008
Yesterday I wrote that I couldn't find any information on Kid Orbis and the Royal Disques that I have with his music. But that was not true: I have a handful of other advertisement records with his music. These are records released on the NoraToon label. They all have the same sleeve:

On the back of the sleeve is a list of the complete Noratoon catalogue: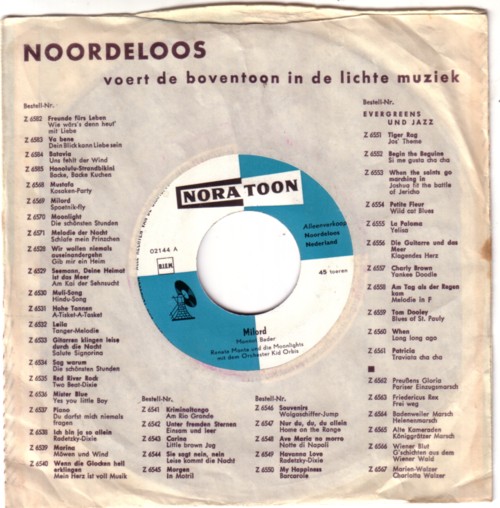 NoraToon was a label by Noordeloos, but I have no idea what Noordeloos was. Probably another warehouse? There is nothing to be found on the internet on Noordeloos or NoraToon records. The music on the NoraToon records that I have seem to indicate that it all comes from the same German source as the Royal Disques that Wehkamp made.
Here is the best NoraToon record from my shelves, a not very rocking cover of "Sputnik fly", by Das Orchester Ralf P. Garden:
.
If you think that I am only writing about totally obscure record labels that only made uninteresting records, you are right. But this is only the beginning: the worst is yet to come.
Comments: