Toeristenfolders (1)
Wednesday, 14 December 2011
Een behoorlijk vergeten bron van grafische hoogstandjes zijn de toeristenfolders die in de jaren 50 en 60 door reisorganisaties gratis werden weggegeven. Er moeten er alleen al in Europa tienduizenden zijn gemaakt, en vaak in grote oplages. Elk dorp of streek had minstens een folder waarin de redenen werden opgesomd om daar een vakantie te komen doorbrengen. Van al die folders zijn er naturlijkmaar een paar die er echt uitspringen, maar die springen er dan ook echt uit op een manier dat ik er best wel een paar honderd van zou willen hebben. Zo ver ben ik nog niet, ik heb er een stuk of vijftien, denk ik.
Hier is er eentje om u te laten zien waarom ik ze zo mooi vind:
De illustraties, de vormgeving, de kleuren, de foto's, de handgetekende kaartjes, het is allemaal van een schoonheid die me zeer dierbaar is. Deze folder heeft 20 bladzijdes, en je kunt ze allemaal inlijsten en aan de muur hangen: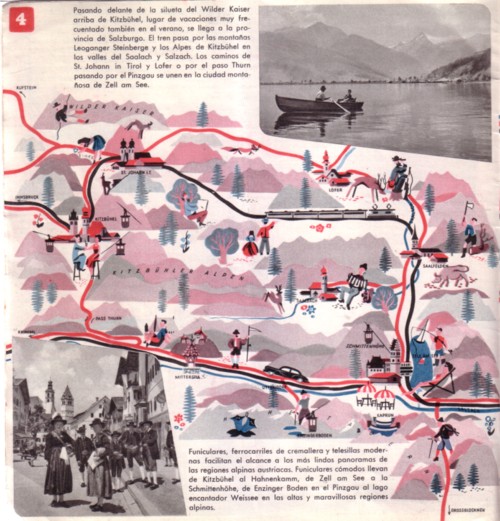 Ik doe weinig moeite om mijn collectie reisfolders uit te breiden. Ze vormen wat Dolf Hell ooit mooi definieerde als "bijvangst". Onderin dozen met tweedehnads boeken wil er af en toe nog wel eens eentje liggen. En als die 50 cent kost, is het veel. Ikvind ze graag, maar eigenlijk wil ik liever dat iemand er een dik koffietafelboek over maakt dan dat ik zelf een fractie van wat er allemaal bestaat in de kast heb staan.
Comments: