Sanne
Tuesday, 28 February 2012
Al 35 jaar stuur ik fotokopieën van alles van wat ik maak de wereld in. De eerste twintig jaar stuurde ik ook van alles naar kranten, tijdschriften en uitgevers, maar dat leverde niets op en daar ben ik een jaar of tien gelden mee opgehouden. Ik stuur nu alleen nog dingen naar mensen die ik persoonlijk ken of die ik zou willen leren kennen.
Inmiddels hebben een aantal van die mensen kinderen die oud genoeg zijn om een mening te vormen over de manier waarop ik mijn brein binnenstebuiten keer op papier. Meestal interesseert het ze maar matig, maar er zijn uitzonderingen, zoals Sanne. Volgens mij is ze 17 en ik heb maar een handvol keren ontmoet, als ik bij haar ouders was, waar ik ook niet vaak kom trouwens. We hebben nooit meer dan een paar zinnen uitgewisseld. Ik houd me doorgaans op de vlakte in het bijzijn van jonge mensen; ik weet nog maar al te goed hoe erg ik het vond als iemand van mijn huidige leeftijd tegen me aan ging kletsen toen ik jong was.
Dat Sanne goed kan tekenen, wist ik, maar toen ik onlangs deze foto per mail ontvang keek ik behoorlijk op: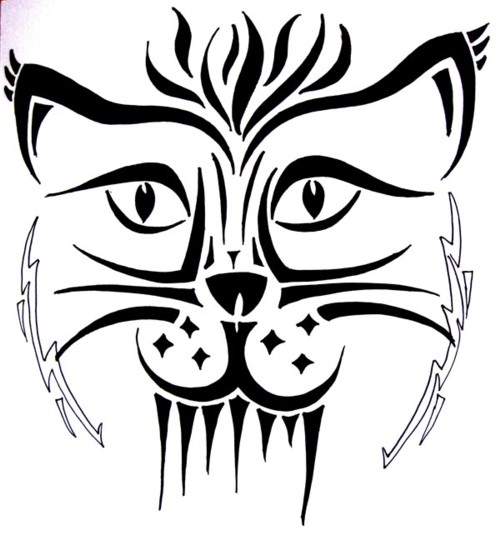 Dit is een tekening die Sanne heeft gemaakt, maar ik herken mijn eigen lijntjes! U denkt misschien, nou en, maar ik zie zelden of nooit dat iemand mijn tekeningen gebruikt worden als inspiratie.
Er zat nog een andere foto bij de mail, met daarop een stukje van een muur van Sannes kamer. Tussen de foto's van haar vrienden en vriendinnen en Sanne's eigen tekeningen hangen kleine stukjes van mijn tekeningen:
Ik voel een warm soort verwarring als ik hier naar kijk. Dit is zoiets totaal anders dan wat ik soms hoop te bereiken met mijn tekeningen. En zo ontzettend leuk!
Dat wordt lastig bij een volgende ontmoeting met Sanne. Daar ga ik me nu vast op voorbereiden, zodat ik niet met drie woorden alles weer kapot maak wat ik zonder het te weten heb opgebouwd.
Comments: