DDR miniatuur houtsnijwerk
Saturday, 12 May 2012
Nou, ik heb de doos die ik eergisteren beschreef zorgvuldig bekeken, en de inhoud gesorteerd, gerepareerd en zo als mogelijk weer in de juiste doosjes gedaan. Zoals ik al zei, is er veel incompleet of kapot. Maar voor een liefhebber van jaren 50 Oost-Duits miniatuur houtsnijwerk moet dit toch een opwindende collectie zijn.
Het gaat voornamelijk om musicerende engeltjes en musicerende haasjes. Daarnaast zijn er nog wat losse stukken. Maar er zitten drie grote orkesten van engeltjes in de collectie, waarvan de mooiste compleet met piano:
Dit orkest zit er zelfs twee keer in, maar in het tweede orkest ontbreken wat engelen.
Er is nog een ander engelen-orkest, met kleinere, dikkere engeltjes:
Ook mooi vind ik de doos met bloemenmeisjes: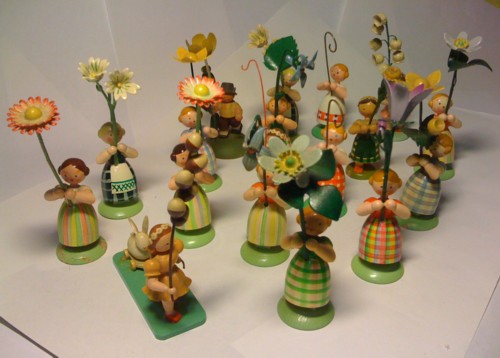 Ik weet niet goed hoe ik dit spul moet googlen. "Miniatuur jaren 50 Oost-Duits housnijwerk" levert niets op. Als iemand tips heeft, hoor ik dat graag. Uiteindelijk moet dit materiaal een goede bestemming krijgen; als ik dit nog een week of wat in huis houdt, wil ik het niet meer kwijt en zoveel ruimte heb ik hier niet.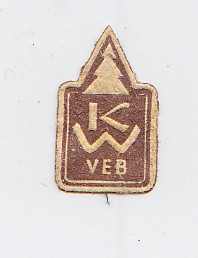 Op een aantal figuurtjes zit een stikkertje, die de afkomst verraadt. Helaas weet ik er niets van en zegt het mij niks. Maar voor wie er meer van weet, heb ik zo'n stikkertje even gescand. De ware grootte is minder dan een centimeter.

Comments: