Geno Washington
Monday, 19 November 2007
I am not particular fond of live records. They rarely capture the spirit of a live show, and most bands are playing not as good on stage as they are in the studio. I have heard many recordings of concerts where I was in the audience and more than once I could hardly imagine why it seemed so good while it happened, and so bad on tape. And remember, I don't drink much.
Among the live recorded LP's in my collection, that do have captured the magic and the energy of a performance, is one that was released on Golden Hour records. Unlike most other cheap labels, Golden Hour released more than a handful of LP's with great music. But the live show of Geno Washington & the Ram Jam Band is absolutely a killer record. It begins as an explosion of energy, and that explosion lasts for a full hour. Geno Washingon is giving it all, in every song, and the Ram Jam Band never lets him down. They play a great repertoire too, with some obvious covers ( Ride your pony, I'm a road runner, Respect ), but there are many songs that I don't hear much on other soul records.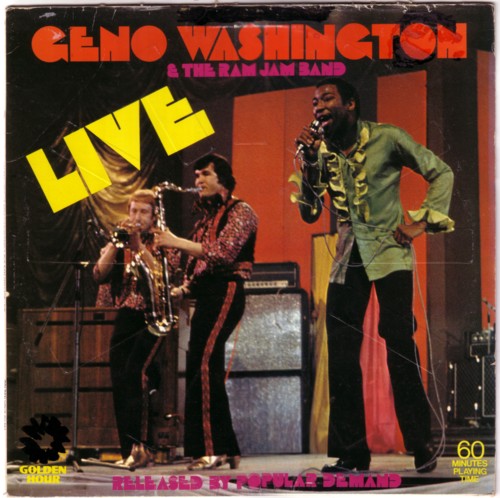 The girl or guy who did the recording of this LP deserves a medal: usually either the audience is mixed out, or the sound of some instruments is shit, or the singer is too loud, but here everything is in perfect balance. You can hear women screaming in every song, but the music is clear as crystal. And although Geno is singing on top of his lungs, he manages not to loose his voice. It really makes you feel as if you are witnessing a live show.
To let you hear that I am not talking nonsense, I let you hear both the first few minutes of this legendary show and the finale. By the way, Geno sings Beatles songs all through the show, and he does this far better than many other soul giants who tried that. But I cannot let you the hear the full hour, unfortunately.
.
Comments: