Letter portraits, comments and Suri-soul
Friday, 9 November 2007
Ruud Hulleman sent me link to an animation video of a flying car. Of course, I don't want an animation but the real thing. But since there is no flying car yet, we have to do with this video, which gives me the idea that this flying car is something of the very near future. But haven't I said that before?

For the video, go here.
I get much mails with links to interesting music blogs, but I don't think it is a good idea to mention all these.

I get the impression that most people are already overloaded with what they find on the Internet. But this link, to a Brazilian music blog, is worth giving it a visit. John Koenmans sent it to me. And take the rest of the day off, because you will need time.

The little letter-portraits that you see on this page are something I discovered today. I was inspired by the work of Joel Guenoun.

Willem Vleeschouwer had sent me a link to his site and I really enjoyed it. Joel Guenoun has published a book titled "Les mots ont des visages". I took this even more literally than he did, and to my own surprise it worked.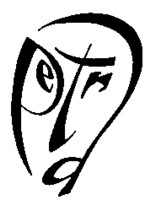 The likeness of the letter portrait and the person is not striking, but sometimes it does give a glimpse. With only four or five letters this is far more than one might expect. I made letter-portraits of the four people in our family and of the three in the family of my brother.

Today I have been listening to some exotic soul records, because I am making a new compilation. I stopped counting them, but I think it this volume 8. I got some very cool Surinam 45's with ultra slow soul ballads as only Surinam soul singers could make them.
Here is an example, Yvette my love by Godwin Gramms.
.
If you are interested in more letter portraits, or if you think that I am wasting my time, try this!
Comments: