CD covers
Tuesday, 30 October 2007
I am still busy re-organising my CD-covers. I know how totally irrelevant all this is, but a rather great part of my personality loves to indulge in trivial activities like this.
I used to have a shelf with maps, in which I kept the covers in alphabetical order. But that didn't really work any more, because I have too much CD-covers.

When I started making my first CDr's, I made booklets, labels, how-do-you-call-the-part-that-you-fumble-behind-the-CD's and often even extra's, like stickers.

But that soon turned out to be too much work. And, even for the handful of copies that I made, too expensive.

One day I discovered the transparent plastic sleeves. I loved the simplicity of these sleeves, and because I dislike the hard plastic boxes in which CD's usually are sold, I switched to these plastic sleeves. This meant that I had no longer to do with back-covers (that is how they are called!): every CD-cover is now a simple folded piece of paper, 12 by 12 centimetres.

I design the covers on plain photocopy paper, or on the back of old photocopies, so they fit perfectly in a Multo-map. But like I said earlier, this takes more space than I can afford, so now I have put them all in a box. And I threw away some of the covers for CD's that I haven't copied or listened to for years.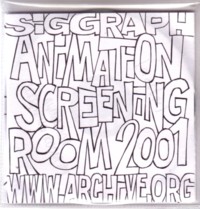 I have no idea how many CD-covers I have made, but it must be over 500. I also used to make covers for movies and documentaries, and of course I made many covers for friends.

I would not mind doing this as a job. There must be somewhere on this planet people or organisations who would like to have all their CD-covers hand lettered. I am pretty cheap: depending on the design and the amount of work I get, it would cost about 10 to 35 euros per cover.
Here is an ultra rare 45 that is on one of the CDr's that went through my hands today, and that I was happy to hear again. It is the B-side of a 45 that the actor James Dean recorded, Jungle rhythm. And in case you want to know, James Dean plays the bongo's.
Comments: