Honey Hush
Tuesday, 16 October 2007
With the Dutch rockabilly/psychobilly project as an excuse, I started going through my archives, looking for info on this subject. I made several fanzines during that period, in which I wrote about the records that I bought and the concerts that I visited. Here are two issues of such zines, both from 1985:

.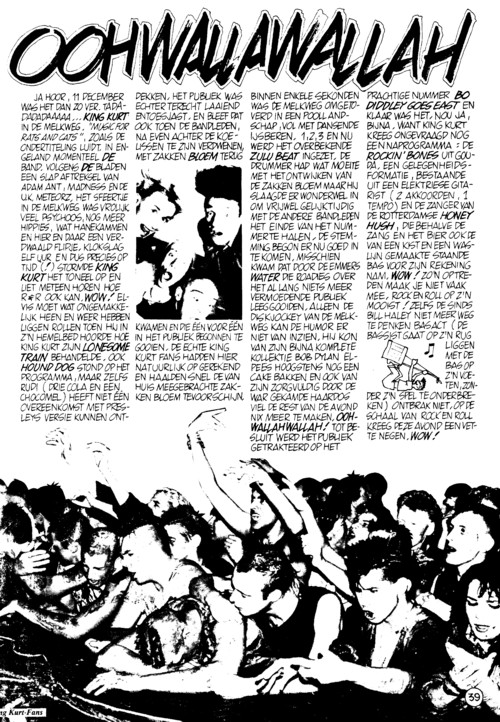 The concert of King Kurt was great, even though I never really liked most of the records of that band. In the zine I write about an unannounced after concert, that two guys gave, while most of the audience was already leaving. These guys just jumped on the empty stage. They announced themselves as The Rocking Bones and did a few songs. I loved the idea: why don't do more bands such after concerts? It is the only illegal after concert I have ever seen!

I knew one of the guys: he was Boppin' Bennie, the singer of the Dutch band Honey Hush. They had made a great 45, with Getaway gal and She's so fine. Later their record company ( Rockhouse ) released a mini LP with these songs and four others. Boppin'Bennie is not the best singer in the world, but he has the kind of voice that I love to listen to: high pitch, a bit out of tune, a clearly recognisable accent, and a lot of street credibility.
The other guy on stage played guitar and Boppin' Bennie played a one stringed tea box bass. After one or two songs, he played it lying on his back, with the bass on his feet, like the guy in Bill Hailey's band did. Doing this for an audience of ten people, on a stage that that was covered with centimetres of drab, was almost a surrealist art performance.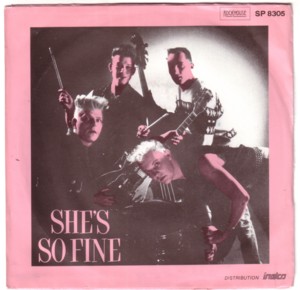 Maybe I need to explain the drab. I don't know when it started, but during one of their concerts the members of King Kurt threw a few packs of flour into the audience. From then on every concert was a total chaos, because people started bringing along all kind of dirty stuff to throw at the band. And the band took care of business too, and threw back similar things. After the concerts everybody was covered with a layer of flour, beer, confetti and foam. The people who had to clean up the hall after such a concert will not have been too happy.
Anyway, here is Honey Hush with You're the one that done it.
Comments: