Budget Punk Party
Thursday, 13 December 2007
Milan Hulsing was here yesterday and said that he likes my TypeFaces. Somebody in the Yahoo ambigram group told me that TypeFaces would be a better name than Typefaces, and I think he is right.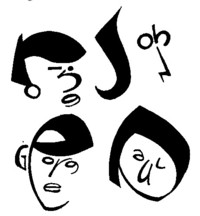 I stopped making TypeFaces, because I thought I have done more than enough. But Milan said that I should have a T-shirt made with the Beatles, so after he left I spend the rest of the day re-making John, Paul, George and Ringo. After many versions I had one where all the faces looked in the same direction and where they all more or less resemble the persons as they looked in the early years.

I have bad experiences with the T-shirt business. It cost me more money than it made, and I ended up in corners of the world where I was glad to leave. But it is a tempting idea to have T-shirts with these Beatles TypeFaces on them. So I think I will give it a try to find somebody who is interested, or to do it myself. If you have any information or advice that could be helpful, please let me know.

The soundtrack of today is from an LP that is on my treasure shelves. It is called Budget punk party and contains 18 beat punk tracks from cheap exploitation labels. This genre is very dear to me and I really don't understand why there are so little CD's and LP's made with this kind of music. Who in the world does not want to hear music made by bands with names like The Liverpools, Ben Cash or The Beat Kings ?!
I happen to have some of the original records where the tracks on Budget punk party were taken from, so I know that there is more than enough material to release another 65 volumes. But I am afraid that it will take a long time waiting for them.
Here is Good golly miss Molly by Charly & his Explorers. Who needs the Beatles with these guys around? And with a repertoire of songs the length of this killertune, they could cram 14 songs on a 45!
Comments: