Don Bolles
Friday, 21 December 2007
The story that I started about fanzines, a few days ago, is a long one, and much too long for now, because there is a Christmas coming, and I want to write about that too, even though i don't really like Christmas. So I will return to the wonderful world of fanzines later. Let's get this Xmas thing done first!
Here is a track that comes from a tape made by Don Bolles:
.
I got a copy of this cassette in the early nineties from Ron Kane, who is befriended with Don Bolles. Ron sent me a also a picture that he had made of Don.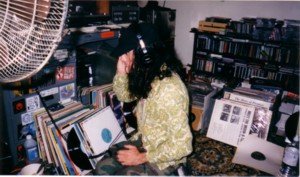 There came no info with the tape, but I was no position to complain about that. I only needed to hear fifteen minutes of this tape to realise that Don Bolles operated in a different league than I do. I had none of the records on this tape and I wanted to have all of them!
By now I have identified about half the songs on the tape, because they showed up later on compilation LP's/CD's and other tapes that I heard. And I even have a few of the records myself now. But the tape still stands out as one of the best compilations of weird music that I have heard. And I have heard a lot of this so called weird music.
The song, that you heard a few lines earlier, gave me the idea to make a Black Christmas compilation. Apart from this track, I knew a handful of other songs that would fit this theme, and I was sure that there was more. But I still haven't made this compilation. I have not enough music to make it the killer compilation that I want it to be. Of course, James Brown alone made enough Christmas songs to fill a CD box, but that is not what I have in mind. I think of jazz, ghetto, Black Panthers, beatniks, etcetera.
If you happen to know track that should be on a Black Christmas CD, please let me know. Then maybe next year the compilation will see the light of day.
And, because it is almost Christmas, here is another mystery track from the same tape.
.
(The Santaclaus song is probably done by Akim & The Teddy Vann Production Company, but I am not 100% sure of that.
Comments: