Annie
Tuesday, 15 July 2008
The Dutch version of what is called "tearjerkers" in English is called "smartlappen". It is not exactly the same, of course, but if you are Dutch you know what I mean, and if you are not Dutch you will probably have no idea what this story is about anyway. There are some really great smartlappen, and I will try to write more about these records in the future, but there are also many many records in this genre that you don't want to hear, believe me.
Although all smartlappen are about tragedies, there are certain tragedies that are rarely mentioned in Dutch songs. Incest, suicide, rape, drug addiction for example. I have done a lot of effort to collect records about exactly such kind of tragedies. If there are other people collecting this stuff, I would love to exchange some information, because these records are hard to find.
Here is an example: Annie with "Mishandeld, vernederd, verkracht":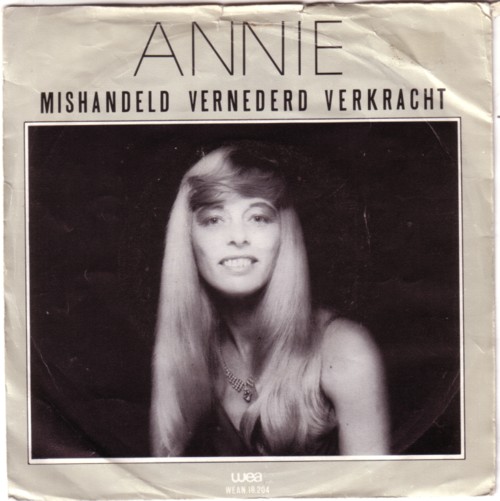 .
You might think that my interest in such records is sick. You might be right, but most of all I am curious about this phenomenon. Why do we have hardly songs about things that really matter? Why are there so little songs about cancer, AIDS, racism, time travel accidents and things like that ?
Comments: